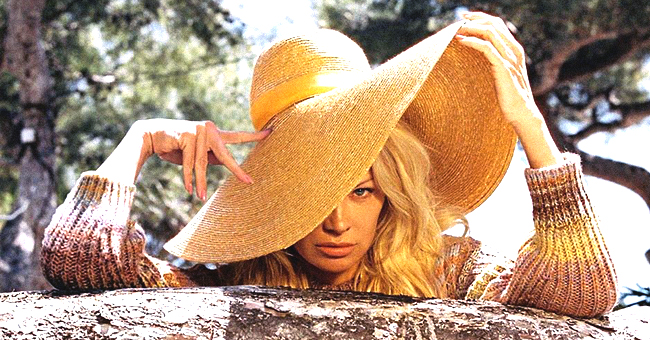 instagram.com/vogueczechoslovakia
Pamela Anderson Flaunts Curves for Her First 'Vogue' Cover
The 51-year-old Baywatch star Pamela Anderson recently posed for the cover of the Vogue Czechoslovakia's June issue with some dramatic and sexy seaside poses.
Photographed by Dan Belieu in Cassis, France, the star posed with tycoons such as Versace, Chanel, Savage x Fenty, and Saint Laurent with the phrase 'Who wants to kill Pamela Anderson?'
Of course, Vogue isn't turning into a crime-solving magazine. The shoot was actually inspired by the 1966 cult Czech film "Who Wants to Kill Jessie?" starring Olga Schoberova, a Pamela look-alike. The publication posted "miracles happen" on their Instagram account in clarification of the inspiration of the shoot.
Shortly after the shoot, the longtime animal rights activist said, "Every girl wants to feel sexy. I think of myself as a socialist feminist. I love men. I don't like authority." "Be careful who you share your weaknesses with. Some people can't wait for the opportunity to use them against you," she added.
The pin-up girl has also had some issues in her romance with Beau Adil Rami with the recent breakup. Their appearance at the UNFP Trophy Ceremony in Paris on Sunday, however, turned heads and raised questions.
Pamela was quick to answer that they had been back together for several weeks and Beau had recently brought up marriage.
Wise words coming from a personality that has had years of experience in the industry. "But people can't really believe it to be who I really am. It's hard to accept it. I'm always in a ridiculous battle – to convince people that I have something to say. And even people closest to me try to protect me." she said.
"'Don't use this photo it's too sexy.' 'Don't do this, don't do that.' F**k off! Let me be me. I'll tell you who that is!" She added.
The outspoken and free minded actress has nothing to fear from the world and she flaunts her personality whenever and wherever she sees fit. One of the many reasons why Pamela stands out from the rest.
Please fill in your e-mail so we can share with you our top stories!