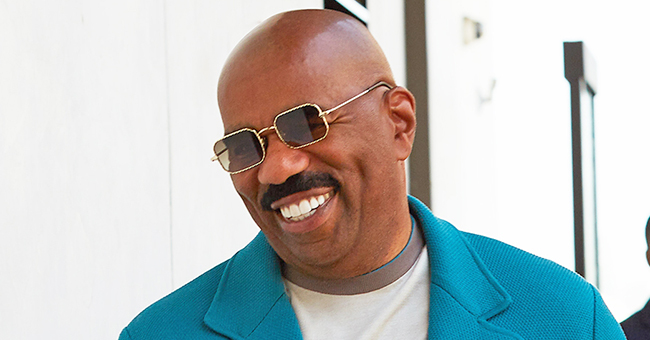 Instagram/iamsteveharveytv
Steve Harvey Is a Proud Grandpa as Grandson BJ, 2, Receives School Award

Comedian Steve Harvey is proud of his two-year-old grandson as he posts a cute video of the little man receiving an award at school on his Instagram page.
The little boy whose name is Benjamin Troy Raymond II or BJ as he is also known as won an award in school and his grandfather was present to support him. In the video, BJ walked gallantly and was cheered on loudly as he walked towards the stage to receive his award.
Steve's voice could be heard clearly as the proud grandfather shouts "BJ" on top of his voice. He captioned the video in the most "serious" Steve Harvey way he could. He wrote,
"This is my grandson BJ getting something I never...got an award in school ??? go ahead lil man."
Steve's followers also had good things to say about the little man. Some suggested that the little kid is already acting like his granddad at such a young age. His outfit was also appropriate for the function, as he had on a white shirt and black trousers, white and grey sneakers, and a black bowtie.
Steve being the great grandfather that he is, also finds time to hang out with BJ despite his busy schedule. Not long ago, video footage of Steve teaching BJ how to ride a bike surfaced on the internet. The cute video was posted by Steve's daughter Brandi, who is the twin sister of BJ's mom, Karli Harvey.
The video was later reposted on the official Instagram account of Steve Harvey's morning radio show. Harvey is a big family man with four children of his own from two marriages, three stepchildren whom he raised like his kids and five grandchildren that he loves hanging out with.
Steve Harvey shared what he goes through keeping such large family on his show, "The Steve Harvey Show." He revealed,
"I've been waiting years for my kids to get out of my house. I want to be an empty nester. Now they come back to the house, and they got more people with them. They always bring them over and drop them off. And I'm going 'Now, I been talking to my girl all day long. All we been talking about was what was going to happen tonight. Then, I get to the house and here they is!"
Even though he meant it as a joke, there is a bit of truth in the statement. Family means a lot to Harvey and his wife Marjorie, and their Instagram accounts are proof of this.
On their respective pages, there are photos of the couple spending time together, beautiful pictures of both their children and also some lovely videos of their grandchildren.
Please fill in your e-mail so we can share with you our top stories!