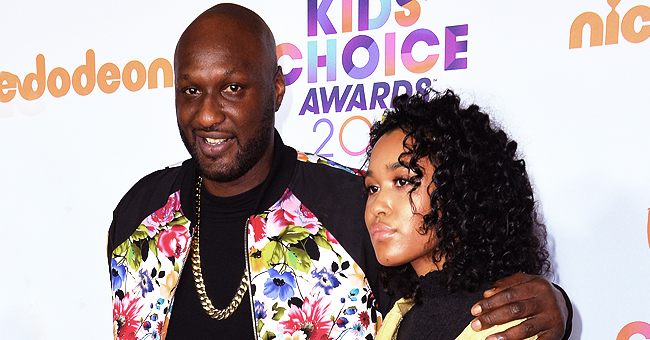 Shutterstock
Lamar Odom's Daughter on the Moment She Saw Dad on Life Support after 2015 Overdose
Lamar Odom's 20-year-old daughter Destiny reminisces about the terrible incident that almost took her father's life.
Destiny revealed more details about the event after she recently joined her father in an interview with "ABC's Nightline" to promote his new book "Darkness to Light."
She opened up about the pain she went through amid her father's hospitalization after his critical drug overdose in October of 2015 at a Nevada brothel.
"I think we found out from TMZ actually, a family friend called us and was like, 'Are you ok? Heard Lamar's on life support,' and we were like, what?!"
According to Destiny, at that time, she did not think that her father would survive the traumatic experience.
"I thought it was going to be my last moments with him. I couldn't believe it; I was just in a state of shock," said the 20-year-old.
When the 39-year-old was asked how he felt about the way his daughter learned of the incident, Odom replied, "It's f***ed up that she had to find out like that."
Odom confessed he threatened his then-wife, Khloe Kardashian, saying, "I'll kill you."
Destiny is Lamar's oldest child whom he shares with his ex Liza Morales. They also have a son, Lamar Jr., and had a third child named Jayden who tragically died at a very tender age in 2006. Lamar also spoke about his son's death during the interview.
"I still remember the day I was in the room, Watching him come out, watching him come into the world," he recalled the birth of his son. "When he passed, I couldn't even leave the hospital. I just sat there for about three hours and held him," Odom added.
He also spoke about his marriage to Khloe Kardashian. The former lovers got engaged after one month of dating. Nine days after their engagement, they got married and the wedding ceremony was watched by three million people on "Keeping Up With the Kardashians."
Odom confessed he threatened his then-wife, Khloe Kardashian, saying, "I'll kill you." He also revealed how much he regrets his actions and that there are more details about his life in his new book.
Please fill in your e-mail so we can share with you our top stories!