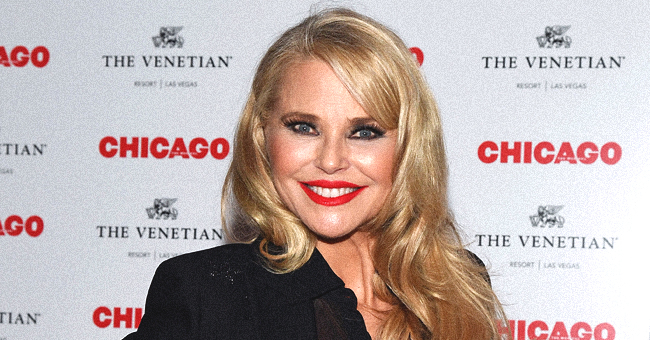 Getty Images
Christie Brinkley Urges Fans to Honor Military as 'One Nation Together' in a Touching Tribute
The Sports Illustrated cover girl dedicated two different posts to the US military men and women on Instagram in commemoration of Memorial Day, thanking them for their sacrifice and asking the nation to unite in their honor.
65-year-old model and actress Christie Brinkley took to social media on Memorial Day sharing multiple posts to pay tribute to the members of the United States Armed Forces who have lost their lives serving the country.
A THROWBACK
First, she posted a throwback image of her surrounded by US Navy officers back in her 20s, sharing how honored she has been by the times she has been allowed to express her gratitude to these men and women of service.
"I'm grateful for the many opportunities I have had over the years to personally thank our men and women who serve to protect our country," Brinkley captioned the snapshot that pictured her posing dressed as a cheerleader.
"This photo was taken during a Bob Hope Show at the Naval Base in Norfolk back in the early 80's I think," she recalled.
"But how do you say thank you to those who made the ultimate sacrifice and their families who miss them. Well, we can start by remembering and honoring the fallen in unity as one nation together on this special day ...sending a message of respect and gratitude. It will never be enough but I hope the families feel the love," she expressed.
FROM BROADWAY
She went on to post another message regarding the military accompanied by a photo from the "Chicago" Broadway musical on which she is currently starring. In the image, she is been kissed on both cheeks by actors dressed as Navy men.
"They make sacrifices because they love peace and freedom and their country and all of us in it. And we love you back. Hope you feel our respect on this #memorialday," the mother-of-two captioned the photograph.
ANNUAL MUSICAL TRIBUTE
Brinkley joined several other artists who paid tribute to the military on Memorial Day weekend, with the annual PBS "National Memorial Day Concert" featuring deluxe stars from music theatre and the recording industry, live from Washington D.C. on May 26.
Among the top performers and presenters that showed up for the 30th anniversary of the broadcast were "Hamilton" actor Christopher Jackson, "Dreamgirls" star Amber Riley, singer Patti LaBelle, and "American Idol" finalist Alyssa Raghu.
Many prominent members of the Armed Forces were also present in representation of their military peers.
Please fill in your e-mail so we can share with you our top stories!