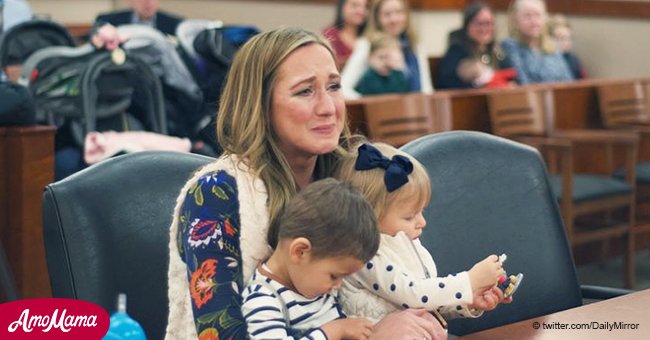 Single Mom Stunned When She Found out Her 2 Adopted Kids Were Actually Brother and Sister
An Alabama woman named Katie Page adopted a baby of whom she was a surrogate mother, and a year later, a miracle changed her life.
Katie Page got divorced in her early thirties. Then, at that moment, she decided to turn her life around and look for the path that would most fulfill her.
She bought a 4-room apartment that needed urgent remodeling and also a few changes. One day, although she did not usually do it, she opened an email from her pastor, and she learned about foster mothers.
She was captivated by the whole thing and decided to have a foster home. She began to receive children as a temporary mother without knowing that her life would turn upside down.
HER FIRST SON
One day, they called her to receive a little one of 4 days old. She went to pick him up at the hospital, and the baby did not even have a name because his mother left a few hours after the birth.
She received him with the help of her mother, who moved to live with her to support her now that she would have a baby for a longer time.
Almost one year later, Katie was still terrified, but she decided to adopt the child whom she called Grayson. It was not possible to find any family member of the child, no matter how hard they tried.
Between working and taking care of her baby, time went by. But, she later decided to open the doors of her home to take care of other children for a short time.
ANOTHER SURPRISE
This time, fate had another surprise for her. One day, they called her to tell her that a 4-day-old girl was in the hospital and had exposure to drugs.
It was a case similar to that of her son Grayson. She began to review the mother's documents in the hospital, and both the name and age match the data of her son's mother. However, although she suspected that it could be the same woman, she went ahead and dismissed her hunch.
When she had the first visit with the girl's mother, she asked her some questions and everything matched. She had other children she gave for adoption, but Grayson did not appear in the records because she ran away.
THEY FOUND GRAYSON'S MOM
Katie's social worker called her one day and told her that they had finally managed to find Grayson's biological mother. It was indeed the same mother of the baby girl.
"I cried right in the middle of the workplace when I put the phone down, what if I had said no, what if I had said yes to one of the other locations I had been asked to do a few days before? If Baby Girl had gone to another family, we would never have found her or Grayson's mother, "said Katie.
She felt a strange sensation and received the girl at home to take care of her even with how difficult it was to raise Grayson. She managed to adopt the child's sister on December 28, 2018, and is now the mother of two children. But that is not all.
The biological mother of Grayson and Hannah had another baby 13 months later, and Katie hopes to adopt it also in 2019.
In a similar story, a Virginia couple couldn't have more children and decided to try adoption. Their decision took them on a journey they never expected, and today, they have become world heroes.
The couple's first adopted child was Hannah, a two-year-old girl born without eyes and abandoned at an orphanage in South Korea.
Please fill in your e-mail so we can share with you our top stories!