Melania Trump Boarded Air Force One in a Dress Inspired by Iconic London Landmarks for Their State Visit
Melania Trump always knows what to wear for every occasion and right before leaving for London, she donned a colorful Gucci dress with the city's most iconic sights printed on it.
On Sunday, June 2, 2019, the First Lady of the United States was spotted with her husband, President Donald Trump, at Andrews Air Force Base in Maryland.
As they prepared to board the Air Force One, the media had the opportunity to see some of London's famous landmarks, such as the Big Ben, Tower Bridge and the Houses of Parliament on the $4,400 dress.
President Trump and First Lady Melania Trump depart for the UK. pic.twitter.com/4azQxq7jVp

— The Hill (@thehill) June 3, 2019
DRESSED TO IMPRESS
The pink, green and orange frock had three-quarter-length sleeves and featured a mid-calf-length skirt adorned at the waist by a forest-green belt.
Their visit promises to be marked by hundreds of thousands of protesters marching down the streets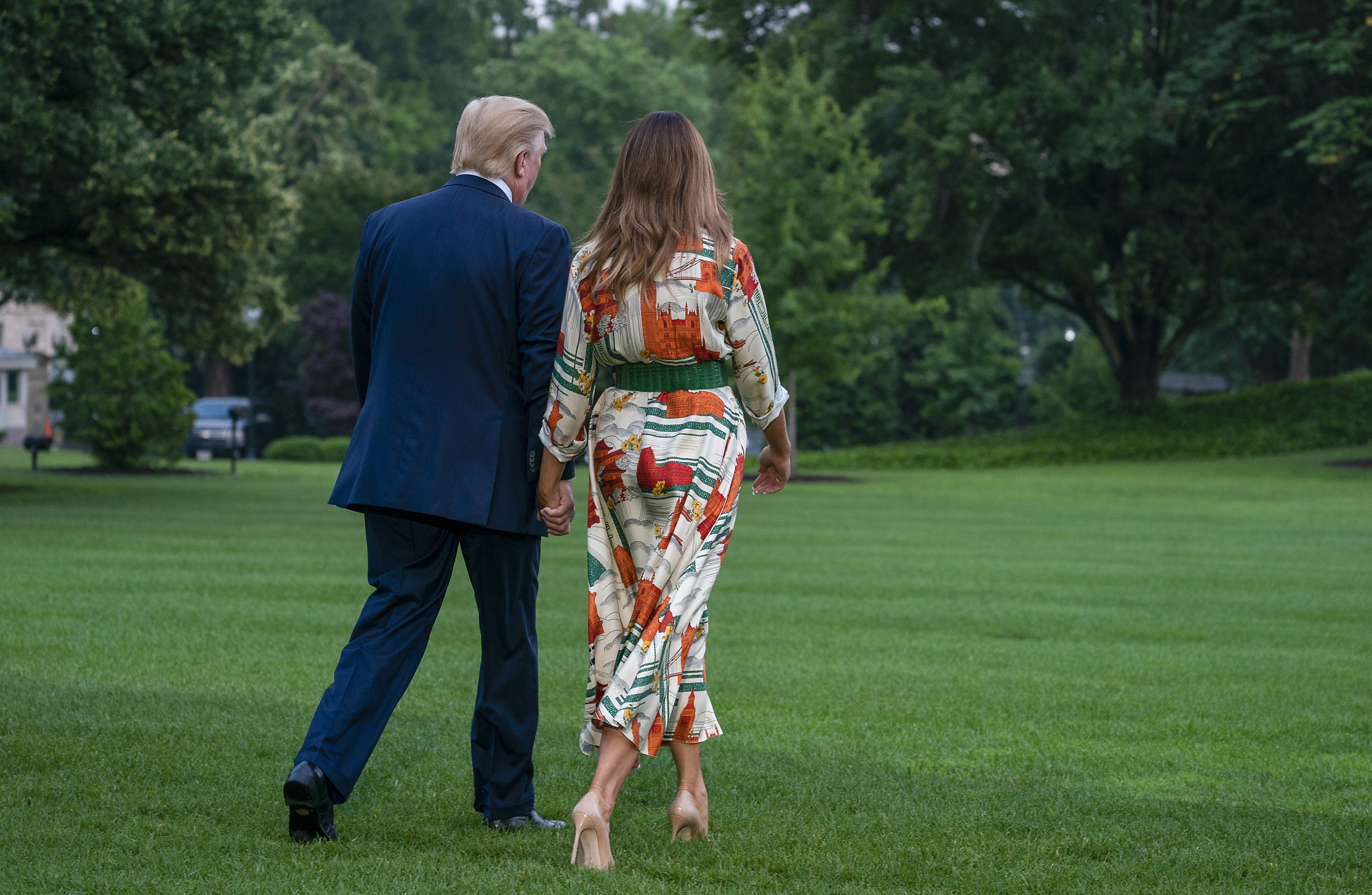 BUSY DAYS WITH THE ROYALS
The First Couple arrived at Stansted Airport on Monday morning for their three-day state visit, where they will be able to mingle with members of the Royal Family.
It has been reported that Melania and Trump are expected to meet Prince Charles and Duchess Camilla Parker-Bowles over tea later in the afternoon, right after their lunch with Queen Elizabeth.
Welcome to the UK @realDonaldTrump & @FLOTUS! 🇺🇸🇬🇧 #USStateVisit pic.twitter.com/u0cF1Y8b5v

— U.S. Embassy London (@USAinUK) June 3, 2019
The Duke of Sussex, Prince Harry will also attend the private lunch at the palace but his wife, Meghan Markle, won't make an appearance as she will stay at home with their four-week-old son, Archie.
The monarch will also be throwing a state banquet at Buckingham Palace to honor the American leaders, but their visit promises to be marked by hundreds of thousands of protesters marching down the streets.
TRUMP VS KHAN
Melania and Trump's visit was previously criticized by Mayor of London Sadiq Khan, who claimed that the United Kingdom "should not roll out the red carpet" for the President.
Upon landing on British soil, Trump replied by saying Khan has done a terrible job as a Mayor, been "foolishly nasty to the visiting President of the United States" and called him a "stone cold loser."
According to a spokesman for Khan, the U.S. President's "childish insults" should be beneath him and that he "is the most egregious example of a growing far-right threat around the globe."