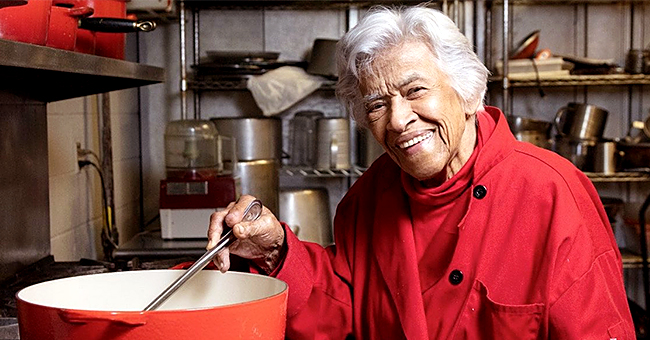 Twitter/NatUrbanLeague
Civil Rights Icon & 'Queen of Creole Cuisine' Leah Chase Dies at 96
Leah Chase, the country's renowned Creole chef who fed presidents and used her craft to promote civil rights causes, has passed away at the age of 96.
The cuisine legend's daughter, Stella Reese Chase, confirmed that she died on Saturday at her son's home near her landmark New Orleans restaurant, Dooky Chase's, per The New York Times.
In a statement published by Daily Mail, Leah's family described her as "a believer in the Spirit of New Orleans and the goodwill of all people, and an extraordinary woman of faith."
They added:
"Her daily joy was not simply cooking, but preparing meals to bring people together. One of her most prized contributions was advocating for the Civil Rights Movement through feeding those on the front lines of the struggle for human dignity. She saw her role and that of Dooky Chase's Restaurant to serve as a vehicle for social change during a difficult time in our country's history."
COLORFUL CLIENTELE
In her lifetime, Leah, nicknamed the "Queen of Creole Cuisine," played host to people from far and wide at Dooky Chase's, the restaurant she and her late husband took over from his parents.
Community residents, tourists, past presidents George W. Bush and Barack Obama, civil rights activists Thurgood Marshall and Martin Luther King Jr, and the legendary Ray Charles, are some of the people who have savored Leah's hospitality and famous dishes like gumbo and fried chicken.
THE BEGINNING
Leah was born during the infamous Jim Crow era on January 6, 1923, in Madisonville, Louisiana, reports The Times. She would later move to New Orleans to attend school and upon graduation, find employment as a server at a French Quarter restaurant.
In 1946, Leah married Edgar 'Dooky' Chase Jr., a local jazz musician whose parents ran a sandwich shop. Leah and Dooky would eventually take over the shop and work hard to transform it into an upscale restaurant similar to the French ones she worked in.
LEAH'S VISION
"I said well why we can't have that for our people? Why we can't have a nice space?" Leah once said, per Daily Mail. "So I started trying to do different things."
The result? Dooky Chase's reportedly became the only upscale diner for African Americans and one of the few places where they could sit with white counterparts during the segregated Jim Crow era.
FOOD FOR THE CULTURE
It soon became a popular meeting point for African American civil rights activists and their white allies, and Leah was once quoted as saying:
"Nobody bothered them once they were in here. The police never ever bothered us here. So they would meet and they would plan to go out, do what they had to do, come back -- all over a bowl of gumbo and some fried chicken."
"I like to think we changed the course of America in this restaurant over a bowl of gumbo," she also famously added at her 90th birthday party, according to Daily Mail.
A LIFE WELL-LIVED
Leah received numerous awards for her culinary skills and civil rights work, and her fame reportedly inspired the Princess Tiana character in Disney's 2009 "The Princess and the Frog." She was also featured in pop star Beyoncé Knowles' "Lemonade" music video alongside a host of other inspiring black women.
GLOWING TRIBUTES
New Orleans Mayor LaToya Cantrell led the tribute train on social media, paying homage to Leah's culinary prowess and cultural impact.
"She [Leah Chase] was a culture-bearer in the truest sense," Cantrell wrote as part of a tweet series. "We are poorer for her loss, and richer for having known and having loved her. She will be badly missed."
Leah is survived by her daughters, Stella and Leah Chase Kamata, and her son, Edgar III. Her eldest daughter, Emily, died during childbirth in 1990, reports The Times.
Please fill in your e-mail so we can share with you our top stories!