Kevin Hart & His Family Coordinate Their Outfits for 'Secret Lives of Pets 2' Premiere
Actor Kevin Hart and his family posed like superstars on the red carpet at the "The Secret Life of Pets II" premiere. 
Fans of "The Secret Life of Pets" were thrilled with the premiere which took place on May 24, 2019, in Los Angeles and brought together the star-studded cast.
In fine fettle was Kevin Hart, who incarnates the evil mastermind Snowball for the second time.
KEVIN HART'S CUTE FAMILY
Hart stepped out onto the red carpet with his adorable family, and the quintet was dressed in matching outfits.
Hart, his wife Eniko, and his three children radiated star quality in shades of white, lilac and teal, in eye-catching angled stripes.
"The Secret Life of Pets" grossed $875 million worldwide and was the year's most profitable release
KEVIN HART FIGHTS FOR HIS MARRIAGE
Hart married Eniko, 34, in 2016, and she stood by him even after he admitted to having an affair while she was pregnant with their son Kenzo, now 1-year-old.
The 39-year-old comedian shares his daughter Heaven, 14, and son Hendrix, 11, with his ex-wife Torrei Hart whom he divorced in 2011.
KEVIN HART'S NEW PROJECTS
Hart is currently working on two new movies: "My Own Worst Enemy" - based on the homonymous TV series - and "The Great Outdoors," a remake of a hit 1988 comedy,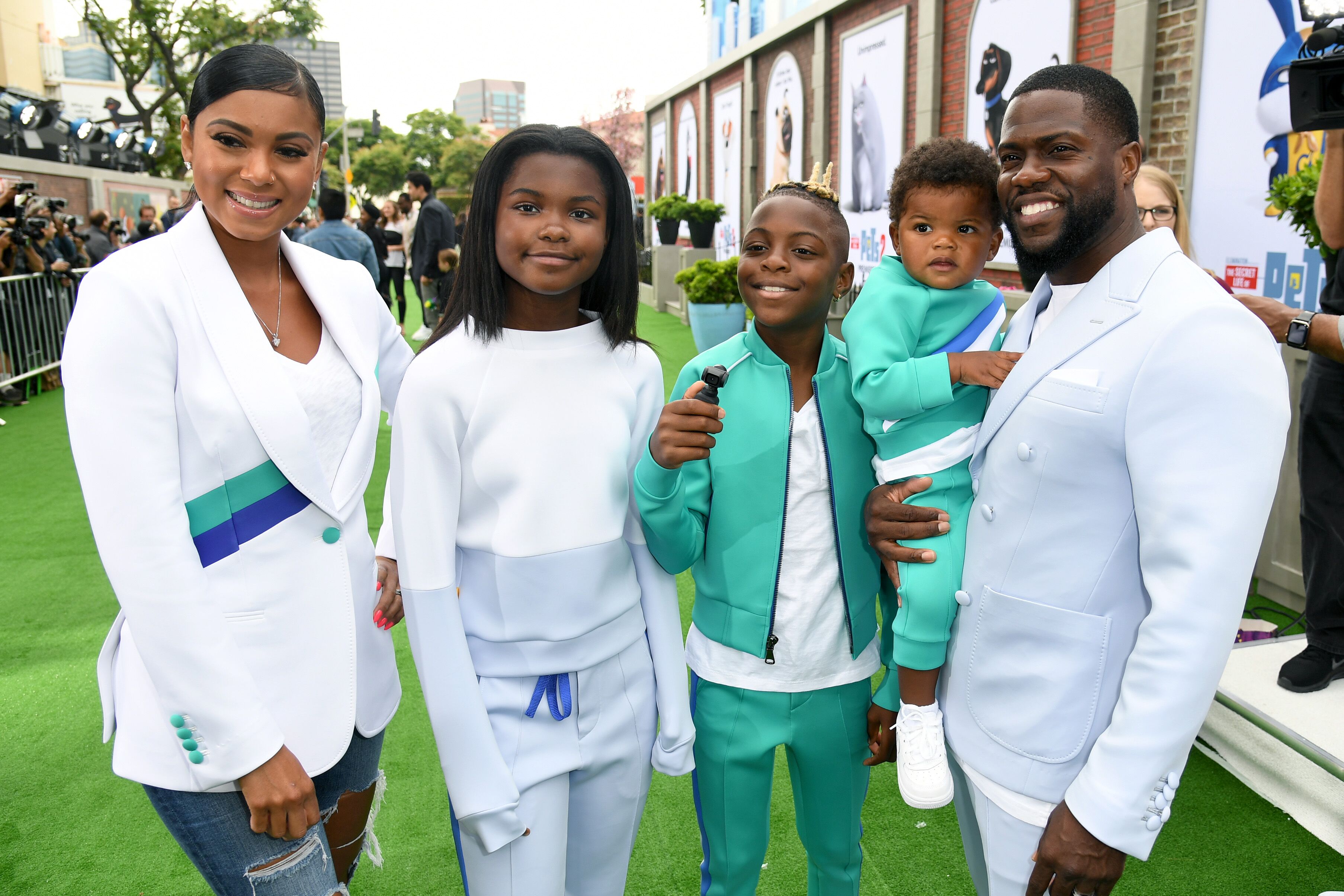 THE STAR-STUDDED CAST OF "SECRET LIFE OF PETS 2"
Joining Hart on the red carpet was icon Harrison Ford who plays Rooster, a Welsh Sheepdog in the movie. Ford looked as dashingly handsome as ever, despite his 76 years. 
Glamorous Beverly Mitchell was wearing a lovely frock, and Sofia Reyes wore a graphic top with black pants. 
"The Secret Life Of Pets 2" will open to the public on June 7, 2019, and critics are predicting that it will be as big a hit as the original. 
Celebrating the premiere of #TheSecretLifeofPets2 @PetsMovie with cast and friends today!! In theaters on June 7th! @KevinHart4real @nickkroll #HarrisonFord CEO #ChrisMeledandri Estreno en EUA 7 de junio pic.twitter.com/FQQKsxby6p

— Eugenio Derbez (@EugenioDerbez) June 2, 2019
"THE SECRET LIFE OF PETS" WAS A HUGE HIT
Like every sequel of a successful movie, "The Secret Life of Pets 2" has some big shoes to fill.
The original film was made in 2016 as a 3D computer-animated comedy produced by Illumination Entertainment.
The movie, which starred Louis C.K., Eric Stonestreet, Kevin Hart, Steve Coogan, Ellie Kemper, Bobby Moynihan, Lake Bell, Dana Carvey, Hannibal Buress, Jenny Slate, and Albert Brooks premiered at the Annecy International Animated Film Festival in June 2016.
"The Secret Life of Pets" grossed $875 million worldwide and was the year's most profitable release. If the sequel does as well, Illumination Entertainment will be laughing all the way to the bank.