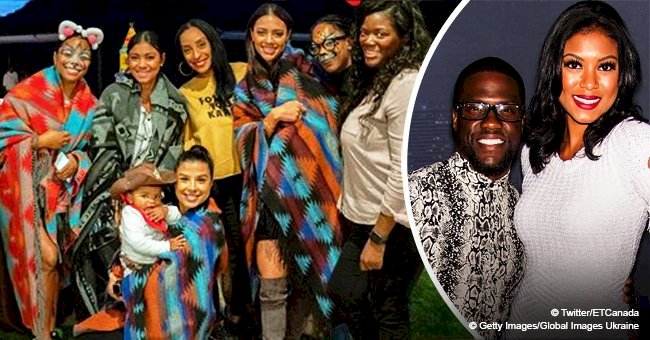 Kevin Hart and wife dragged over 'insensitive' cowboys & Indians themed-birthday party for son
Kevin Hart and his wife, Eniko recently threw a first-year birthday party for their son, Kenzo, but the couple did not envisage the backlash to follow.
Kenzo Kash Hart turned one the day before Thanksgiving and doting parents, Kevin and Eniko treated their boy to a Cowboys-and-Indians theme party. Guests were required to come dressed as either of the two.
Eniko took to Instagram with photos and videos from the event. In one picture, family and friends all smiled at the camera, dressed in what is mostly regarded as Native American attire.
"Zos cowboys & Indians party was nothing but amazing! Thanks to everyone for coming. We love you guys!" she wrote. Kenzo himself was dressed as a cowboy in a brown hat, dungarees, and a red bandana.
Unfortunately, social media users did not take it easy with the Harts, who they berated for exploring such a culturally inappropriate and offensive theme.
"I'm sure your intentions were innocent but as an American "Indian," I thought we have gotten passed this level of ignorance. No disrespect to you and yours but geeez" wrote one user.
"Pure [expletive] TRASH. I am amazed at the level of ignorance displayed in this picture," another quipped.
A third person asked:
"Cowboys and Indians? Can you not afford a publicist who would explain the reality [of] such a terrible idea?"
Kevin and Eniko welcomed their son in November 2017, two months after the comedian confessed to a "bad error in judgment." Someone was allegedly trying to extort him using a sexually provocative video involving the actor and another woman. Eniko was heavily pregnant at the time, but the two were able to sort out their issues and move on with their marriage.
Last September, Kevin spoke about the episode and again, pointed at his "stupidity" as a reason for the tests his marriage had to go through.
The "Night School" actor also gave props to Eniko for forgiving him and staying by his side:
"I applaud my wife for just displaying a high level of strength that I can't even explain. I applaud her for being my backbone, my support system, and more importantly, taking my life to the next level."
Kevin and Eniko have been through quite a lot, and if they can come out strong after such a scandalous hit, then they'll probably have no trouble getting through this recent party backlash.
The couple tied the knot in 2016, and although Kenzo is their first child together, Kevin has two children -- 13-year-old daughter Heaven, and 11-year-old son Hendrix -- with ex-wife, Torrei Hart.
Please fill in your e-mail so we can share with you our top stories!