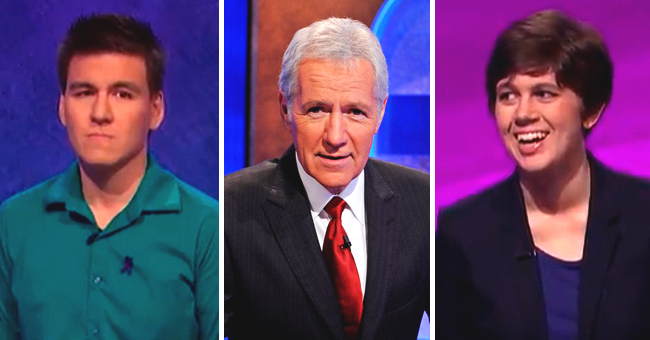 nstagram.com/jeopardyjeopardy // twitter.com/Complex
Emma Boettcher Just Ended James Holzhauer's Record-Breaking 'Jeopardy!' Streak
"Jeopardy!" took a mind-blowing turn from the usual as Emma Boettcher, aged 27, beat James Holzhauer, the current leader of the show, to end his 32-day consecutive win.
James Holzhauer, who had earned millions of dollars, was on his way to break Ken Jennings' record for the amount made during the show.
Emma said that she had tried to get into the show four times, ever since she was in high school, but it never worked out until February 2019, after she auditioned yet another time. Resilience!
Boettcher is a full-time librarian at the University of Chicago, and this experience helped her with the victory on Monday's episode of "Jeopardy!"
Emma stated that she never knew she was going to be going against James until the coordinators introduced him to all the contestants before the competition commenced and his long winning streak put her in awe and denial because it seemed unbelievable to her
When the competition began, Emma led James pretty early on as she had got two "Daily Doubles" compared to James' "Daily Double," before the final round which made her $3,200 ahead of him.
Boettcher stated that she was excited to find out that the final round of the episode was going to be about William Shakespeare and the Shakespearean era.
Boettcher, apart from being a librarian, majored in English while she was in college and her final projects were on Shakespeare's works, and this made the game very easy for her to win even though she had to keep her cool until the final results were announced.
Emma won the sum of $46,801, and the amount seemed to have been budgeted for, as she planned to relieve herself of student loans and donate the remaining to the University of North Carolina at Chapel Hill school of information and Library science where she got a master's degree in Information Science in 2016.
Emma's master's proposal was based on research titled "What is Difficulty?: 'Estimating the Difficulty of fact-finding Questions using 'Jeopardy Articles' " and this research, apart from winning her the "Elfreda Chatman" research award in 2015, also makes her very well prepared and suited for "Jeopardy!"
James, like everyone else, congratulated Boettcher for her win and stated that he had no regrets as he did the best he could and was glad to have lost to someone as brilliant as Emma; he went ahead to give tips to being successful in games such as "Jeopardy!"
The Naperville native stated that it was both physical and mental as he had to hold the buzzer in one hand and think smartly while applying his strategy of picking questions with high values first and subsequently betting all he had on "Daily Doubles."
Boettcher has since then gotten a lot of praises from her co-workers, America's Librarians and the media. Boettcher stated that she was excited and honored to have competed against James regardless of the outcome, as she had always looked up to him.
She also said that it was a dream come true to have finally been on the show, which she had watched her whole life and was glad to have written her name in "Jeopardy!" history books.
Boettcher is set to face a Ph.D. student from California and a graphics designer from New York City on Tuesday's edition of "Jeopardy!"
Please fill in your e-mail so we can share with you our top stories!