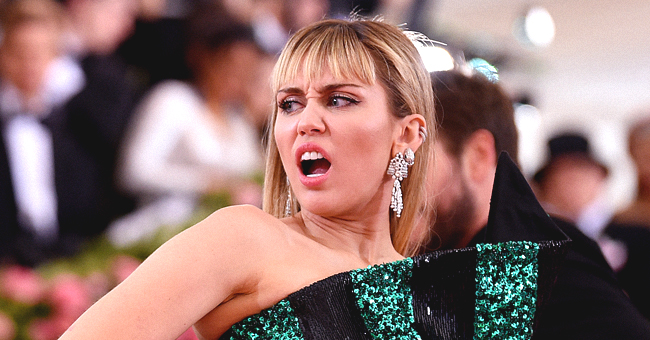 Getty images
Miley Cyrus Tries to Avoid a Man Who Grabs and Kisses Her by Force in a Disturbing Video

The moment when a fan in the Spanish city of Barcelona grabs and kisses the singer by force just outside the hotel where she and her husband Liam Hemsworth were staying is making headlines after it was caught on video.
Footage showing 26-year-old singer and actress Miley Cyrus being forced by an abusive stranger who went for her to wrap his arm around her neck and kiss her after pulling her hair was posted to Twitter by a Spanish fan on June 2.
Both Cyrus and her 29-year-old husband Liam Hemsworth have been on the spotlight from an early age, and they are used to struggle to walk through a crowd of fans and photographers, but this time someone really went off limits.
Hemsworth was just inches ahead of Cyrus as the two were leaving a hotel in Barcelona, Spain, when his wife was attacked, which he barely noticed when the man had been taken away from the star.
It all happens so far that Cyrus didn't have much time to react. She doesn't even turn around to look at her attacker and just rushes towards a car under the protective embrace of Hemsworth.
Other fans of the "Nothing Breaks Like a Heart" singer were quick to react to the clip, taking to social media to support Cyrus and condemn the incident.
"I feel so bad for her, she looked so happy meeting her fans. She probably didn't even see it coming. Also there's two securities right behind her, how did neither of them even see her getting tackled ??! why'd it take them so long to get her away," a Twitter user wrote.
"It's so awful how fans think they can just grab at celebrities. They are human beings. I would hate this life," another person expressed.
"Makes my stomach hurt to watch. I'm glad she was able to scoot ahead to Liam. Probably made her feel better than being alone," somebody else tweeted.
Cyrus, who had just given an outstanding performance in the city for the Primavera Sound the night before the unpleasant encounter, took some time to reflect on the incident before issuing any comments on the subject.
"She can be wearing what she wants. She can be a virgin. She can be sleeping with 5 different people. She can be with her husband. She can be with her girlfriend. She can be naked. She CAN'T be grabbed without her consent," Cyrus stated in a tweet on June 4.
Cyrus followed the tweet with another one that included a screen capture that shows comments of netizens that pretend to justify the harassment/ blame Cyrus for her sex-positive attitude and the way she dresses.
The capture shows how difficult it still is for some people to understand the concept of consent, and that nothing but an explicit invitation to do so makes acceptable for a stranger to touch another person in such an invasive way.
"Still not asking for it," Cyrus insisted, defiantly asking people not to "mess" with her freedom.
With this, Cyrus left the subject behind, not revealing whether or not she is taking legal action against the person who approached her inappropriately.
Cyrus is experiencing one of the most exciting moments of her career, having debuted a new EP with great critics, touring Europe, and promoting her guest role in science-fiction Netflix hit "Black Mirror."
She seems to be determined not to allow anybody to spoil her moment, and she won't cease to provoke and express her unfiltered opinions, or from sending her message about sexual freedom but with a conscience.
In this spirit, Cyrus has come up with a great idea for merchandising to accompany her recently released record "She is Coming:" her own brand of condoms.
They are going to be selling for $20 and come in a black wrap with the words "she is coming" printed on white on the outside. By buying this, the consumer also gets a digital download of the EP.
Please fill in your e-mail so we can share with you our top stories!