Paula Deen's Daughter-In-Law Describes How Different Her Premature Girls Are in a New Photo
Claudia Deen, the daughter-in-law of Paula Deen, posted a picture of her premature baby girls on her Instagram and they both look different yet beautiful.
Married to television personality Bobby Deen since July 2013, Claudia gave birth to their triplets 4 months earlier than expected. Despite the risks being present, the babies pushed through and look gracious as ever.
Claudia Deen took to Instagram to post a cute picture of baby Amelia and Olivia in elegant white dresses coupled with tiny bow headbands. The girls, despite being two parts of triplets, look astonishingly different.  
"Amelia & Olivia, two of my favorite things about our girls is how different they look and especially how different their personalities are!" Claudia captioned the picture.
Claudia is proud that her girls have different personalities. The fans, however, believe that Amelia took to Claudia whereas Olivia took to Bobby and that's why they are different.
"Amelia is a firecracker, she's super energetic and she laughs all day long... she's honestly the happiest baby I've ever met!" she added. "Olivia is extremely sweet, she loves to sleep and to hang out... her fav activity is playing with her books; well, they ALL love their books!"
Claudia also went on to ask her audience about the personalities.
The fans took this chance and showered the post with comments and shared some twin experience of their own. Most of them mentioned that the firstborn mostly is the firecracker whereas the second one is the 'go with the flow' type. One fan also offered to have signed copies of children's books delivered to Claudia.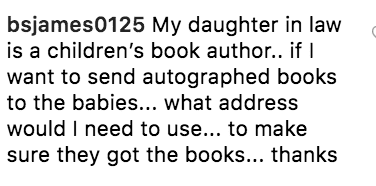 Of course, mommy isn't the only one excited about the triplets, grandma Deen was hyperactive when Bobby and Claudia welcomed the trio of joy in their lives.
THE TRIPLETS ARE DOING JUST FINE
It's going to be a long ride for these precious three angels, but we've got complete faith that God's got his arms wrapped all around them and he's going to see them through this until they can come home," grandma Paula Deen told People.
The major concern at the time was the premature birth of the little angles. Four months prior to the due date is too soon for comfort. But Paula's prayers have been answered and the triplets are doing great. 
The sweet pictures on Claudia's Instagram give us plenty of milestones and moments of Amelia and Olivia. When they celebrated a 5-month milestone of the triplets, the internet got treated with two beautiful baby girls in onesies and the bow headband with a frame marking the 5th month on a calendar.