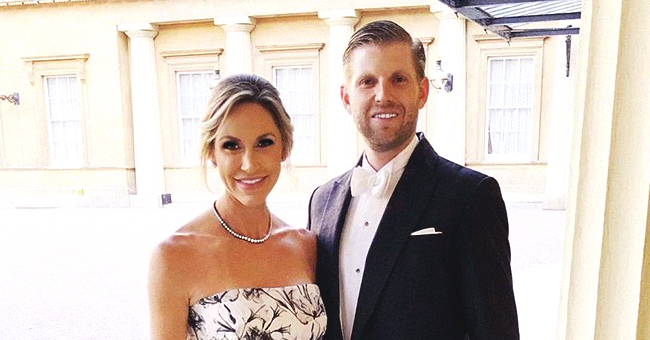 instagram.com/laraleatrump
Lara Trump Gives a Glimpse of Her Baby Bump while Posing with Husband Eric
Being seven months pregnant is no excuse for not looking beautiful and elegant, as demonstrated by Eric Trump's wife; the beautiful Lara Trump.
Lara and Eric posed for a photograph during their visit to the United States Ambassador's home in London, at the entrance of Withfield House. Eric was wearing a tuxedo and his wife was wearing a long black dress with beautiful sleeves decorated in green, high designer black shoes and her long blond hair was combed with soft Old-Hollywood style waves.
They later shared the photo on their Instagram but not before Lara, like any mother, showed how much she misses her little 18-month-old son by sharing a photograph of the baby kissing her mom.
During the three-day official visit to Britain, the couple accompanies President Donald Trump, his wife First Lady Melania Trump and Eric's siblings Donald Trump Jr., Ivanka Trump, and Tiffany Trump as well as other members of the Trump administration.
Steven Mnuchin, Secretary of State, Stephanie Grisham, spokesperson for the First Lady, and White House Secretary Sarah Huckabee Sanders were photographed smiling next to their boss's children.
During their visit to London, the couple not only attended this meal with the Ambassador, but they also visited the War Room of Churchill, Westminster Abbey where they placed an offering at the Tomb of the Unknown Soldier, and attended the gala dinner offered by Queen Elizabeth II.
This dinner was attended not only by visitors from the United States and members of the Trump Administration but also by relatives of the Queen such as Prince Charles and the Duchess of Cornwall, Camilla.
In each of these events, Lara looked absolutely charming and is showing everyone that although she is 7 months pregnant with her 2nd child, pregnancy feels great and she can look glamorous and elegant with her baby bump.
In the visit to Churchill's War Room, she wore a shirt with a floral print and for the Gala Dinner a long white dress that made her look stylized and elegant. In addition, she has walked during all these events with high shoes with total naturalness.
Please fill in your e-mail so we can share with you our top stories!