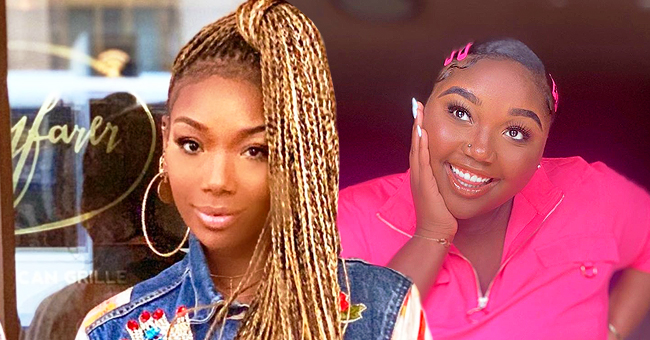 Instagram/syraismith Instagram/4everbrandy
Brandy's Teen Daughter Sy'rai Looks Just like Mom in Pink Top & Her Hair Slicked Down
Brandy's daughter posted an adorable photo of herself on Instagram and she looks just like her famous mom.
Singer Brandy's daughter Sy'rai Iman Smith is growing up and she's looking more like her famous mom every day.
Sy'rai recently shared a photo on Instagram that had fans commenting on the uncanny resemblance.
BRANDY'S LOVELY DAUGHTER IS NOW 16
It seems like it was just yesterday that Brandy gave birth to her daughter Sy'rai, but the once tiny girl is now 16, and a lovely young woman.
She posted a photo on social media that shows off her resemblance to her mom. In the photo, Sy'rai is posing in a pink Iman blouse, with matching clips in her slicked back hair.
Sy'rai had some advice for young girls - lose weight because you want to, not because you want to please others.
FANS COMMENT ON SY'RAI'S BEAUTY
"Girl, you look like yo mama!! #beautiful?"
"Beautiful Pic Gorgeous Young Queen ? Beauty Runs In The Family looking like your Mom ??"
"Young Lady You are Beautiful ❤️"
SY'RAI SPEAKS OUT ABOUT BEING BIG AND BEAUTIFUL
Sy'rai has made it her mission to help young girls with body image problems accept themselves for who they are.
"When I was your age what I realized is I'm bigger than most kids. (but) There can be a beautiful person in a beautiful body, but in the inside, they can be so ugly… I'm not the skinniest … If you really want to change, change because you really want to change, don't change because other people are saying oh you're a big girl or you're fat," she said..
SY'RAI'S ADVICE ON LOSING WEIGHT
As for weight loss, Sy'rai had some advice for young girls - lose weight because you want to, not because you want to please others.
"That's the one thing that made me want to lose weight. It's because I wanted to lose weight for myself. And don't say that someone is going to treat you better because you're skinnier. That's not true. As long as you know who you are, nobody is going to care about your weight if you walk in that school with confidence," she said.
Brandy has plenty to be proud of in this young lady. She isn't just beautiful, she's smart and sensible. Well done Sy'rai.
BRANDY'S ADORABLE NIECE AND LOOK-ALIKE DAUGHTER
Brandy is a proud mother, and now she's the proud aunt of baby Melody, the daughter of her brother and his wife Princess Love.
Brandy, who dotes on little Melody, has shared a side-by-side photo of her own daughter and her niece on Instagram, and the resemblance between the two is uncanny.
Melody has proved to be a peace-maker and has smoothed out the rough edges in the relationship between her parents and her doting Aunt Brandy.
Please fill in your e-mail so we can share with you our top stories!