Tori Spelling's Husband Claps Back at 'Cowards' Who Criticized Her Bikini Photo
Tori Spelling's husband, Dean McDermott, is protective when it comes to his beloved wife. So when the internet started trolling his wife over her appearance, he wasted no time to fire back. 
Spelling, 46, took to Instagram on Sunday to share a photo with her "BH90210" costars Jennie Garth, 47, and Gabrielle Carteris, 58. The trio was clad in swimsuits as they lounged on the rooftop, which is the revival set of the hit series in Vancouver.
The three divas took some time off their busy schedule to have fun in their swimsuits. "Sunday Family Dinner…," Spelling captioned the post with a hashtag "nomakeup."
NATURALLY, THE INTERNET TROLLS PUT THEIR "CRITIC CAP" ON
The internet went into a frenzy after the actress shared the post, and while some fans expressed how excited they were for the reboot, other took to the comments section to express their contempt over the picture of bikini-clad trio. 
"I'm cringing," wrote a hateful fan. 

Another fan chimed in: "Tori will, unfortunately do anything for money and attention. It's not like her husband is gonna get the feeling he should get a job any time soon, still I would not have released that swimsuit photo, they look like they're making a Lifetime movie about three hag sisters who stalk men online and then they go missing. They need to call it "You'll Look Worse After" surgery."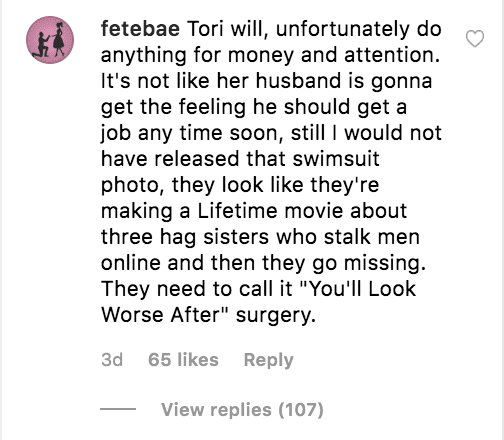 A third one criticized them about their "artificial enhancements": "So much plastic surgery on all your faces lol."

A fourth fan, who thinks that the actress looks better in a pull over dress, commented: "Tori why would you wear something like that? Not be a hater, you would just look so much better in a pull over dress or something."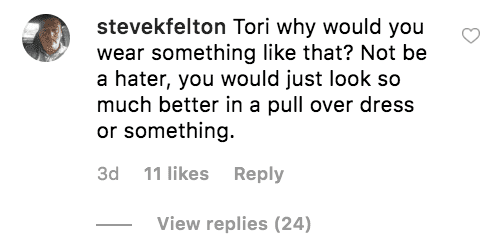 MCDERMOTT HAD HIS WIFE'S BACK
Meanwhile, one of those hateful comments caught McDermott's eye and the troll was in for a clap back.
"Trying hard to be relevant," the comment read, to which McDermott replied: "I love how you haters have private accts!! Let's see what you trolls look like ya cowards!!!"
Spelling is lucky to have a husband who always has her back. Previously, McDermott fired back at the internet trolls after they criticized his wife for feeding their kids a snack.