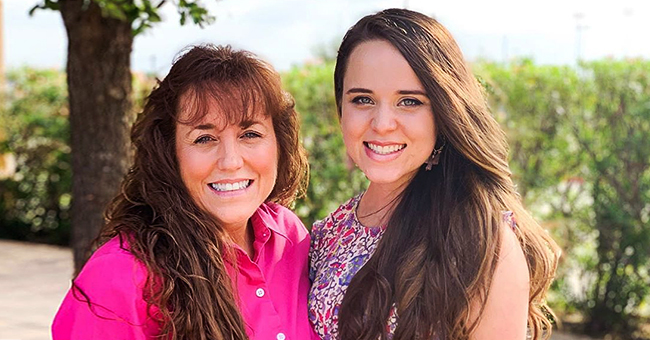 instagram.com/jingervuolo
Jinger Duggar Debuts a Brand New Blonde Look (Photo)

Jinger Duggar made a drastic change to her appearance as she prepared for the summer months. So far, her fans seem to love it.
Jinger, 25, took to Instagram to share her new blonde look as she posed in a black tee and a pair of jeans. She shared two shots flaunting her waist-length waves.
The first featured a mostly front-facing photo of Jinger smiling closed-mouthed, while the second was taken from behind with the star turning to look at the camera. The photos are found below.

Amy Rachelle King comments on Jinger Duggar's photo | Photo: Instagram/ Jinger Vuolo
"Decided to go with the blonde balayage this Summer," Jinger captioned the sweet photos. Balayage refers to the method used to color her hair.
Jinger kept her hair long, as is typical of the Duggar women, but to many fans, the color change was a great way to show off her individuality amid the strict rules they were raised on.

Photo: Instagram/ Jinger Vuolo
In addition to the change in going from brunette to blonde, Jinger is preparing to move from Laredo, Texas to Los Angeles where Jeremy will attend seminary school.
Jinger's sister Jessa also complimented the picture, saying that her son "Spurgeon saw this pic and said 'She turned her hair gold!' "

Photo: Instagram/ Jinger Vuolo
Of course, Jinger has shown her rebellious side before. In 2016, soon after marrying husband Jeremy Vuolo, she wore a knee-length skirt and heeled boots. Fans were not used to that at all.

Photo: Instagram/ Jinger Vuolo
When the couple moved to Laredo, Texas, Jinger began wearing sleeveless tops to combat the weather. In one instance, fans were surprised to see her in a sleeveless shirt paired with a tennis skirt ─ even though it was, in fact, for playing tennis.
The "Counting On" star was also expressive with her maternity wear during her pregnancy in 2018. Her arms and legs got a lot of air time and she even opted to wear more heels.
After Jinger gave birth to her daughter Felicity, she was also proud to show her off, especially when she began walking at just 10 months old. Fans were shocked to see the tot already on her tiny feet.
In the caption, Jinger revealed that the family was at a bakery. As the picture showed, baby Felicity "enjoyed browsing the bread department!" She stood in front of a shelf holding golden rolls of bread.
Jinger posted another sweet picture of the baby girl on her 25th birthday in December. As she and Jeremy shared a romantic kiss, they held little Felicity between them.
Apparently, the then-three-month-old "couldn't care less" for her parents' adult antics. She sucked on two of her fingers and looked off into the distance. Fans couldn't get enough of the cute little one.
Please fill in your e-mail so we can share with you our top stories!