Melania Trump Channels Her Inner Jackie Kennedy by Wearing an Elegant Blue Headscarf with Sunglasses
First Lady Melania Trump channeled her inner Jackie Kennedy once again while traveling in style alongside her husband, President Donald Trump, and folks couldn't help noticing the similarities between both women.
Melania has been known to take fashion & style tips from the former first lady, and the ex-model did it again last Friday as she and her husband wrapped up their five-day state visit to Europe.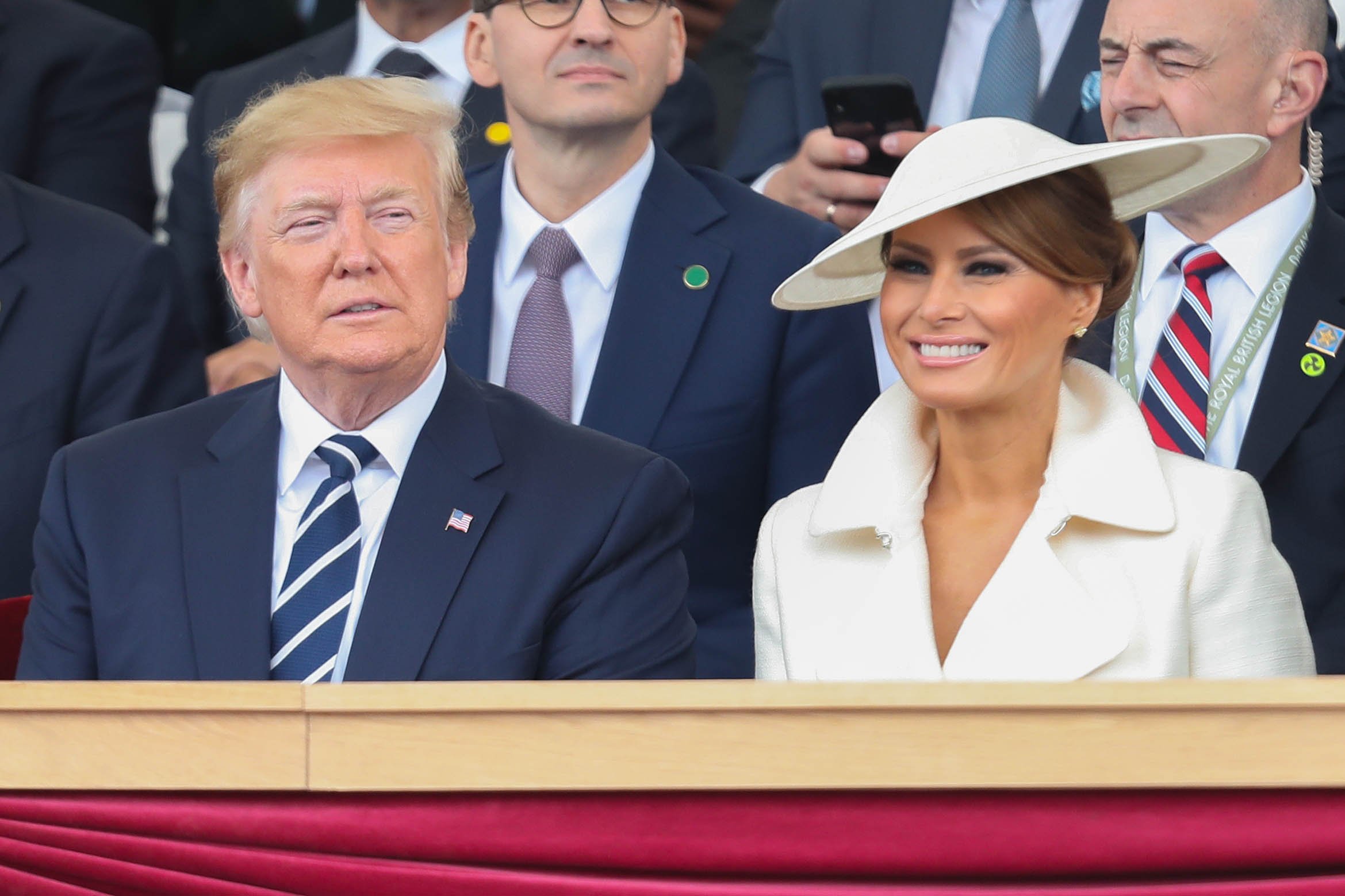 After an event-packed stay that included meeting with British royalty and commemorating the 75th anniversary of D-Day in Normandy, the Trumps headed to Shannon Airport where they would board Air Force One back to Washington DC.
A few other observers, however, pointed out that Melania might be channeling Queen Elizabeth II
The president wore a navy blue suit and a red "45" hat, but it was Melania's fashion choices that made headlines.
Thank you U.K. 🇬🇧 pic.twitter.com/BJFRKU4O75

— Melania Trump 45 Archived (@FLOTUS45) June 10, 2019
Clad in a fully-buttoned and belted beige Burberry trench coat, the first lady accessorized with a powder-blue silk Hermès scarf wrapped around her head, oversized dark sunglasses, and a pair of black Christian Louboutin pumps.
According to political analyst Mona Salama on Twitter, Melania's coat goes for $2,090 while Daily Express estimates her shoes and scarf at about $629 and $432 respectively.
What had folks talking about the stylish ensemble, however, was the similarity to that of one-time first lady Jackie, who was an undisputable fashion icon in the 60s.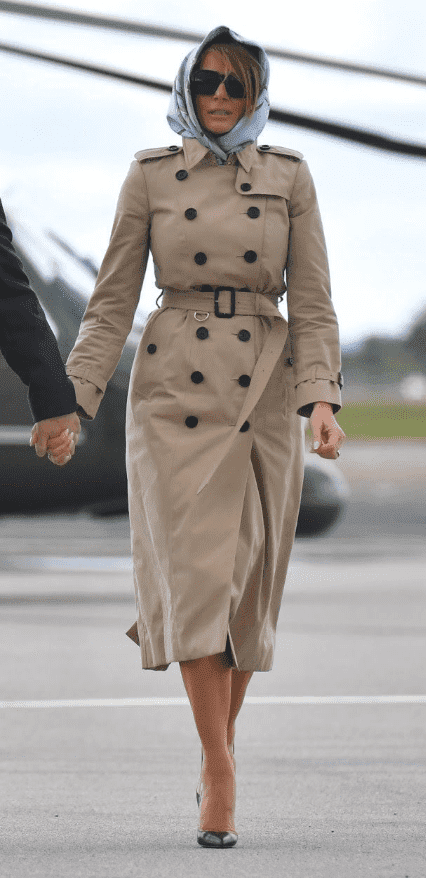 One Twitter user went as far as sharing an old photo of Jackie dressed in like fashion and wrote:
"Melania Trump is wearing a beige Burberry trench coat, an Hermes scarf, black Christian Louboutin stilettos, and round sunglasses as she departs Ireland today. This looks [sic] reminds me of a previous First Lady and fashion icon, Jackie Kennedy."
Agreed. Comparisons of Melania with Jackie right on. Very possible JFK's First Lady inspired Donald's. Why not? Both are similarly gorgeous in naturally refined sort of way. Melania Trump in Hermes headscarf likened to Jackie Kennedyhttps://t.co/NrIPERbr5m

— davd soul (@davdsoul) June 9, 2019
"In my lifetime I have only seen 2 elegant, sophisticated, intelligent first ladies - Jackie Kennedy and Melania Trump in that order," echoed another.
Melania herself once predicted that should she ever become the first lady, she would be "like Jackie Kennedy."
A few other observers, however, pointed out that Melania might be channeling Queen Elizabeth II who also favors silk headscarves. The Trumps had just been with the Queen a few days before, hence the suggestion.
Goes to Buckingham Palace once. pic.twitter.com/fQMIaD3WOn

— Kate Bennett (@KateBennett_DC) June 7, 2019
Melania's comparison to Jackie does not come as a surprise; her powder-blue Ralph Lauren suit worn at the presidential inauguration in 2017 kicked things off as many noted how similar it was to Jackie's or the same occasion in 1961.  
Long before her entrance into the White House Melania herself once predicted that should she ever become the first lady, she would be "like Jackie Kennedy."
First Lady of Fashion: Melania Trump Channels Jackie Kennedy at Inauguration - https://t.co/BaAjv6xzh6 pic.twitter.com/crCO3GOEje

— News4JAX (@wjxt4) January 21, 2017
Guess Melania Trump is keeping to her word. ,