David Adefeso's Candid Confession about Loving a Woman like Tamar Braxton
Tamar Braxton's new man, David Adefeso, is getting real about the ups and downs he has faced while dating the famous singer, known for her bratty behavior on and off cameras. The trick, Adefeso confessed, has been fighting Tamar's pain with love, kindness, and understanding.
David Adefeso stepped into Tamar Braxton's life a few months after she filed for divorce from her husband of eight years, Vince Herbert.
DEBUT AS A COUPLE
Although she kept his identity away from the public at first, Braxton and Adefeso did their official debut as a couple last April at the "Braxton Family Values" season six premiere event at the Doheny Room in Los Angeles.
Since then, the pair have been sharing their joy and love for each other on social media, and David even made an appearance on the reality show, as dealt on camera with Braxton's dramatic antics and troublesome personality.
"Depending on a man to secure your happiness & how you treat others is not healthy sis & won't last. I pray you find true love & happiness within yourself, that's everlasting."
Now Adefeso, who is a Harvard  Business School graduate and wealth strategist, is opening up on Instagram about the difficulties he's faced while loving a woman like Tamar, who according to him, has known nothing but pain and disrespect from the men in her life.
REFLECTING ON TAMAR'S PAIN
Adefeso started his post by recalling how when he met Tamar last year, she was "angry, distraught and almost-completely broken" after losing her marriage, her friends, her job, and being estranged from some of her sisters.
And continued:
"While her behavior was a significant cause of these misfortunes, it took me a while to recognize that there were other equally valid causes, including being repeatedly assaulted by men in her life she trusted [...]; finally culminating in the continuing psychological damage brought on by working on a TV show she feels utterly shackled to due to contract terms."
Adefeso continues stating that he had two choices: whether to continue with the emotional abuse that Tamar had suffered for almost three decades, or to be kind and love her while being a helping hand in her life. He chose the latter.
"With few exceptions, the anger has been replaced by joy, the despair has morphed into a need to help the abused, and the kind, gentle, beautiful and self-assured woman that is my @tamarbraxton is now on full display," he added.
ADEFESO'S ADVISE TO BLACK MEN
David then proceeded to encourage black men who are involved with black women to commit to love them no matter what. He believes that despite wealth status, power, or fame, most women have endured the same challenges that Tamar has lived through.
"Some of what many have condescendingly coined as #AngryBlackWoman is simply a reflection of, and reaction to, the life experiences of our beautiful black women," he added.
And concluded:
"So gentlemen, we DO NOT abandon our sistas when things get tough, and especially when they need us the most. We love them through it, we support them through it, and we protect them through it! #BlackMenStandUpForBlackWomen."
TAMAR'S RESPONSE
Tamar didn't wait too long to reply to David's heartfelt post with a lengthy and heartwarming comment of her own.
The 41-year-old, who shares 6-year-old son Logan with her estranged husband, mentioned how she'd never known a man like Adefeso, who loves her and her scars equally. She thanked him for his patience and confessed she's still working to become a better person.
"You are worth leaving my painful, self-righteous, self-absorbed, attention seeking, sometimes Pathetic past behind," she continued. "Now I know true love, and I'm working really hard to replace that painful 'fulfillment' with your unconditional Love and support."
And added:
"Only a TRUE man of God and who is sent BY God could love a pile of mess because he only sees a pile of Gold. I love you with my entire heart. And because you won't give up on me. I won't either -your Tamar."
SIGNS OF CHANGE
As proof of the work Tamar's been doing to right her wrongs and move on from her mistakes, she recently apologized to her sisters, to her former co-stars of "The Real," and to Iyanla Vanzant through the caption of an Instagram video.
In the clip, Tamar is seen having a good time with some friends and her sister Towanda at an aquatic park. Then, she launches towards Adefeso and hugs him tight, not letting him go for a while and hiding her face in his neck.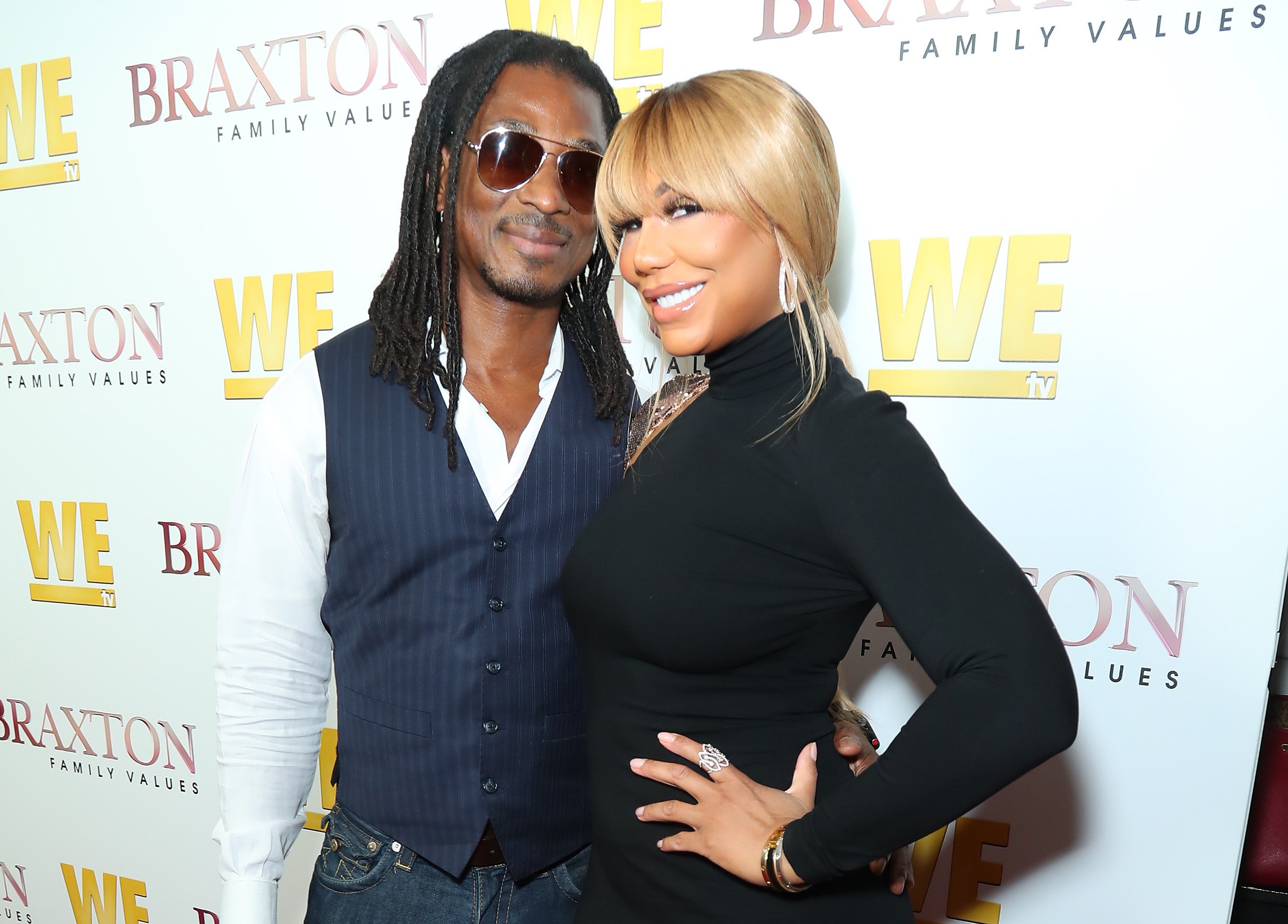 Tamar wrote in the caption:
"When all you know and feel is hurt. You hurt. Self-inflicted and to others are included. From my sisters, the ladies of the real, Iyanla, old and new Friends and whomever else I've EVER hurt, from being hurt. Please forgive me. I didn't know love to show you love. Now I do thanks to my @david.adefeso."
Although fans of the "Love and War" songstress are optimistic about the good influence of David on her life, some are still skeptical about Tamar's change in attitude.
"The only apology that matters is changed behavior," wrote one fan. "Depending on a man to secure your happiness & how you treat others is not healthy sis & won't last. I pray you find true love & happiness within yourself, that's everlasting."
Hopefully, Tamar is serious about growing as a person this time around.