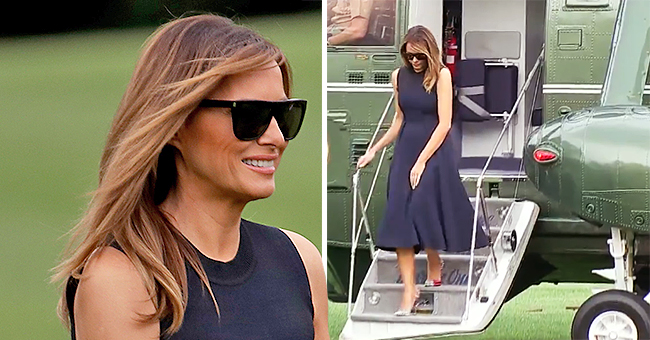 Getty Images / twitter.com/MELANIAJTRUMP
Melania Trump Wore Funky Colored Heels upon Returning to the White House after the Presidential UK Trip

The First Lady has everyone doing a double take after she was spotted wearing a pair of colorful heels soon after her presidential trip to Europe.
Melania is always under public scrutiny because she holds a rather prominent position in society as the First Lady. There is no argument that she is truly, of the elite crew when it comes to her taste in fashion.
Just recently, Melania gained attention after she was spotted wearing a pair of funky Louboutin shoes just after her arrival from the United Kingdom.
The shoe makes her most daring so far, "Footwear News" reports. The 49-year-old was spotted on the White House South Lawn with her hubby, on June 7, after they returned from their one-week visit to Europe.
Melania looked effortlessly beautiful, as always, wearing a navy blue dress made sleeveless but with a high neckline and a flared skirt. She paired the classy outfit with a pair of Christian Louboutin high heels.
The shoes, paired with her stunning yet modest dress, stood out and so, got all eyes on her. They were designed with bold colored stripes, a pointy toe, and were reportedly about 4.7 inches tall.
The Cinestripes colorway is a funky pattern, with bright colors and layered lines. The shoes, which were the perfect fit for the former model, gave just the right accent to Melania's modest gown.
Melania looked very stunning as she was pictured smiling and enjoying a stroll with Donald Trump. They looked like the ideal couple with President Trump wearing a navy blue suit that was just the perfect match for Melania's beautiful Max Mara dress. While Donald went casual pairing his suit with a red cap, Melania stayed classy as always and accessorized with large sunglasses.
After their busy week traveling about Europe – France, Ireland, and the UK – the pair must have been looking forward to resting in their home once again. Melania's colorful shoes can be thought to be her way of celebrating her return home.
Whether she likes it or not, Melania's fashion choices will always be a subject of discussion. She, however, would rather have everyone discuss her work than her outfits. Melania once said.
"I wish people would focus on what I do, and not what I wear."
However, her recent trip to Europe countered that as she only made the perfect companion for Donald and didn't make a speech of any kind. It is almost no wonder that many only follow news of her fashion choices!
Please fill in your e-mail so we can share with you our top stories!