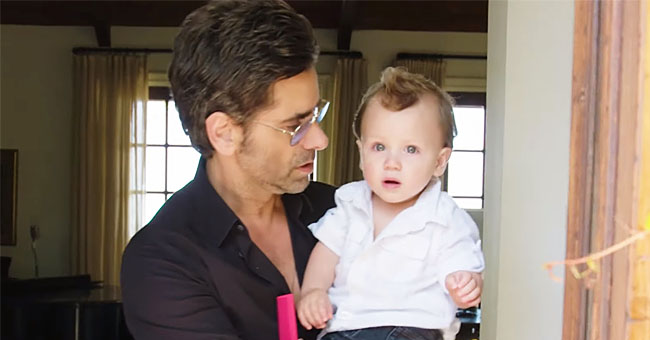 youtube.com/Architectural Digest
John Stamos Gives a Tour inside Luxurious $5.8 Million House with Son Billy in His Arms
John Stamos' 4000-Square-foot house is now for sale, and he decided to show the world what the house looks like when he gave Architectural Digest a tour of the house.
The actor is set to make a considerable profit from the sale as the price tag on it, which is $5.8 million, is almost twice the amount he bought it for.
Stamos bought the two-bedroom house in 2005, for $3.57 million as a bachelor pad but now that he has a family that is more likely to grow in number, he is ready to sell the house.
Stamos had his wife Caitlin McHugh with him and also his 14-month-old son Billy Stamos who he had in his arms during the tour. According to him, he initially bought the house as a "Party House" before finding love and then turning it into a family house.
He also showed them some of the souvenirs he had received over the years which includes a typewriter from Hollywood actor Tom Hanks, some Disney memorabilia, several guitars from "Full House" and a lot of other "memorable" items. He said:
"This place is more me than any other house that I've lived in, starting with the bones of it, which are grounded and old school," he explained. "I was able to start as a bachelor and then, marriage and the kid. I even got married on the property, so it just represents a lot of changes throughout my life."
Caitlin also had some things to say about how she helped him turn the bachelor pad into a more responsible home. She said:
"I made him get rid of the naked lady pictures that were around, but I let him keep some of it."
Stamos was formerly married to Rebecca Romijn, an actress, and former model. The ex-couple were married for seven years, from 1998-2005. Then in March 2016, while he was on tour with the Beach Boys, he dropped a massive hint that he found love again.
During an appearance on "The View," he said:
"Of all the things I get to do in my life, that is my all time favourite thing. The other night (during a show), I grabbed my phone because this girl I'm dating, she loves this song 'Disney Girls' so I put on face time. I thought I could get away with it, but people were tweeting, 'who are you face timing?."
The couple went ahead and tied the knot back in February 2018, and their marriage has been waxing stronger ever since.
Please fill in your e-mail so we can share with you our top stories!