Watch Eva Marcille's Blue-Eyed Baby Learn to Walk Steadily at 14 Months
Eva Marcille and Michael Sterling's baby boy Mikey is tackling down a new milestone in his life, and his proud mom captured the moment to share it with fans on Instagram. The toddler is growing up fast, and in a few months, he'll become a big brother to Eva's third child.
Michael Sterling Jr. is learning how to walk, and his parents couldn't be prouder of the little boy's achievement.
THE BIG MOMENT
In a video that Eva Marcille recently shared on Instagram, she captured a sweet family moment as Mikey took his first steps without any help.
"Alright big kid, I know you can do it, are you ready?" Marcille tells Mikey from behind the camera in the clip.
Meanwhile, Michael helps the boy to stand up and holds his hand during his first steps. But soon after, he lets him go.
"It's amazing that God shared his most amazing superpower with us: the power to create and give life."
At first, Mikey seems distracted while watching TV as he finds his balance, but after some encouragement from his dad, the toddler takes a few more steps all by himself before falling to his knees.
"That's what I'm talking about!" Michael yells with pride, while Eva can't contain her excitement screaming in delight "Yay Mikey! Good job, kid!"
"Yay, my lil man is becoming a big boy!!! #mikey #TheSterlings #ProudParents," Marcille captioned the adorable clip.
MELTING HEARTS ALL OVER INSTAGRAM
Fans and friends alike filled the reality star's comment section gushing about her boy.
Eva's "Real Housewives of Atlanta" co-star Kandi Burruss, Bravo reality star D'Andra Simmons, and singer Erica Campbell left each a comment on the post: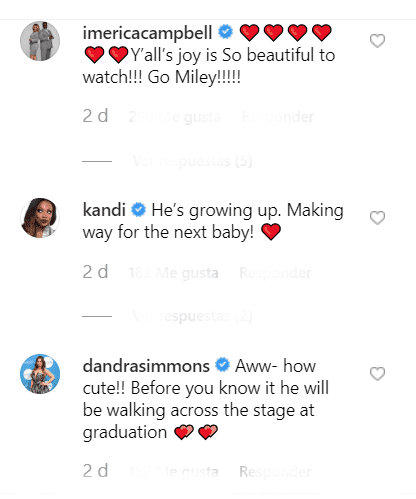 Eva's fans also share their thoughts, like one user who wrote:
"Real love is having your parents cheer for you through the phases of life!!"
And another that pointed out: "He's getting ready for his sister or brother so that he can help mommy."
BABY ON BOARD
Marcille and Sterling welcomed Michael Todd Jr, their first child, in April 2018, six months before they officially tied the knot in a private ceremony in Atlanta.
Last May, they announced that the family is expanding, as Eva is pregnant with their second baby—her third in total as she also shares daughter Marley Ray with ex-boyfriend Kevin McCall.
"Michael and I couldn't be more excited to announce baby No. 3 is on board!" Marcille told PEOPLE.
And continued:
 "Looks like little Michael Jr. is going from the baby to the middle child, and Marley will be the boss of them all!"
"It's amazing that God shared his most amazing superpower with us: the power to create and give life," Sterling added. "I count it a great blessing to grow our family with the love of my life, Eva Marcille Sterling, and we look forward to welcoming another generation of hope into this world."