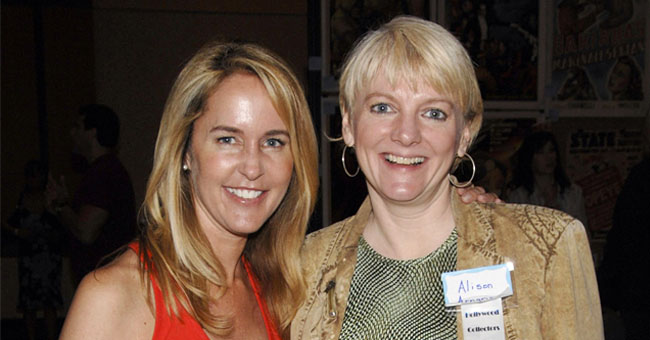 Getty images
Erin Murphy and Alison Arngrim Reunite at LGBTQ Event in a New Photo
Famous "Bewitched" actress, Erin Murphy took to social media to share a photo of herself and fellow child star Alison Arngrim at a recently held LGBTQ event.
Erin Murphy, who is still famously known for her "Bewitched" role from back when she was just a little child, took to Instagram to share a photo of herself with another famous child star, Alison Arngrim.
Alison Arngrim's most famous work is playing the role of Nellie Oleson in "Little House on the Prairie." If the two women's meeting was a coincidence, then it is a rather startlingly perfect one considering just how similar they are!
In the picture, Arngrim and Murphy are standing in an enclosed room which had different large cutouts. The two women pose for photos standing close to cutouts of themselves and seem to share an inside joke as Arngrim smiled fondly at Murphy who has a small smile on her face as well.
The picture as Murphy disclosed on Instagram, is a keepsake from a "Real to Reel," an LGBTQ Event which recently held at the Hollywood Museum a few days ago. Murphy wrote alongside the beautiful photo:
"Had a wonderful time at the Real to Reel LGBTQ event at the @hollywoodmuseum. I have wardrobe in 2 exhibits: Bewitched & Life Interrupted,"
The mother of six then went on to recall that she had so much fun at the event and that Arngrim was a big part of that. Fondly referring to the award-winning star as her TV wife, and along with a string of hashtags of colourful emoticons, Murphy wrote:
"My TV wife, @alisonarngrim makes me laugh! You might recognise her as Nellie Oleson on Little House on the Prairie. #prideweekend #pride #hollywood #LGBT #lgbtq #hollywoodmuseum #nellieoleson #tabithastephens #nastynellie #bewitched #littlehouseontheprairie."
Child stars have become something of a phenomenon now. But as many would have noticed, they don't exactly have things as easy as people would think. Long before there was Miley Cyrus or Keke Palmer, there were Erin Murphy and Alison Arngrim.
The two women have seemed to disappear, which makes the photo bring back nostalgia for avid fans of their respective shows. After "Bewitched" came to a halt in the early 70s, Murphy went on to star in lesser roles and would go on to become a reality star and TV host.
Arngrim, who won awards for her skilful acting on "Little House on the Prairie," went on being a comedian and starred in a comedy album "Heeere's Amy." Later on, she took on several guest role in many TV series like "The Love Boat" and "Fantasy Island."
However, none of it compares to her iconic role as Oleson in "Little House on the Prairie." In a recent interview, Arngrim answered a question about her opinions on having a revival of the classic show.
It was there the actress showed enthusiasm for a spinoff as she disclosed that she and Melissa Gilbert, a co-star on the show, always daydreamed of that. If it ever does come to be, it is sure that Arngrim will still have thousands of fans clamouring to watch!
Please fill in your e-mail so we can share with you our top stories!