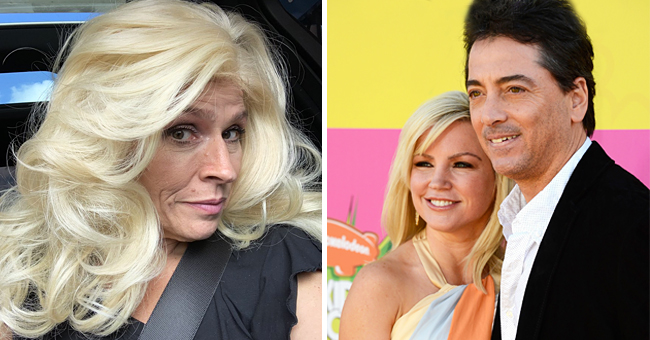 Getty images / twitter.com/MrsdogC
Beth Chapman Sends Prayers to Scott Baio's Wife Who's Battling Brain Tumors
The "Dog the Bounty Hunter" star is keeping Renee Sloan-Baio in her prayers while the wife of actor Scott Baio struggles with chronic microvascular brain disease.
Earlier this week, Beth Chapman, the wife of Duan "Dog" Chapman, took to Twitter to send some words of encouragement toward Baio, whose wife continues to battle non-cancerous brain tumors.
In her tweet, Beth also opened up about the big influence that Baio's care and affection will have on Renee during her difficult time.
She tweeted, "Hoping Renee is feeling better I'm keeping her in my thoughts and prayers. Scott its a hard job to be a great husband and [caregiver]. Keep it up you have no idea how much difference it really makes. God bless."
Beth's prayers came in response to a Twitter user, who replied on Baio's earlier tweet that provided an update on Renee's condition.
Previously, Baio posted that Renee still had three non-cancerous brain tumors and she was on a "wait [and] watch list."
Additionally, Baio updated that his wife continues to struggle with seizures, vertigo, massive head pain, nausea, and chronic fatigue syndrome.
Highlighting on the fact that his wife has already beaten other types of cancer twice, Baio praised Renee for remaining strong despite all the turmoil. "Strongest woman I know!" he tweeted.
His tweet came after one of his followers congratulated him on the completion of Renee's four years of tumor diagnosis, without realizing that she was still not completely out of danger.
Renee was diagnosed with a brain tumor back in 2015. Talking to People back then, Renee told that she wanted to talk about her health issues in public only to "educate others."
She also urged women to take their health more seriously and to "get checked out" for any potential threats.
Like Renee, Beth herself continues to battle with throat cancer. She recently took to Instagram to share an inspiring snapshot of herself only a week after being hospitalized in Hawaii.
Please fill in your e-mail so we can share with you our top stories!