Melania Dazzles the Crowd at Donald Trump's Re-Election Campaign Rally in Florida
President Donald Trump officially kick-started his 2020 re-election campaign with a rally in Orlando. His first wife, Melania Trump, was right by his side and her outfit was amazing!
For Tuesday's rally, Melania Trump chose to be as vibrant as possible. She wore a yellow jumpsuit as she appeared next to her husband, President Donald Trump, at Amway Center.
The bright canary yellow Ralph Lauren outfit was synched at the waist with a silver belt. The jumpsuit featured a scoop neck and bell sleeve design which made it elegant.
She completed her look with matching high heels as she joined her husband on stage in front of around 20 000 people. Melania took to the stage first and greeted the audience saying: "Good evening Orlando."
She was rewarded with more cheers and the crowd chanting: "USA! USA!" The first lady continued: "It has been my honor to serve as first lady of this incredible country for the past two years and I'm excited to do it for six more."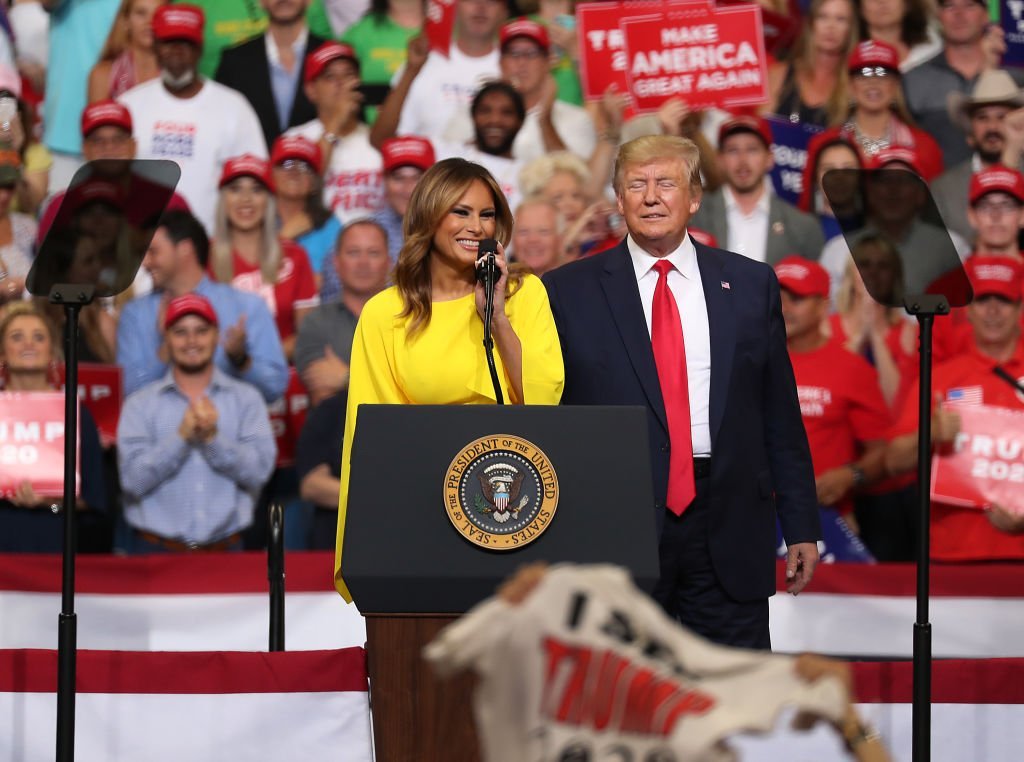 She shared how proud she was of her husband, their administration, and their family for all the work they'd put in for the American people over the past two years. The first lady added: "He truly loves this country and will continue to work on your behalf as long as he can — all of us will."
Melania concluded by saying: 
"Thank you all again for being here tonight and now, I want to introduce my husband, the president of the United States, Donald J. Trump."
The crowd began chanting even louder as the presidential couple shared a rare public display of affection. The Trumps hugged warmly in front of their audience.
The pair even shared kisses on the cheek before the president began his speech. Donald's speech lasted for around 76 minutes as he recalled his administration's achievements since he was elected.
.@FLOTUS stuns in a vibrant yellow JUMPSUIT at President Trump's re-election campaign Kickoff rally in Florida.

Mainstream media will never give the First Lady the credit she deserves for ANYTHING.

She's Incredible!
🔥🔥🔥🔥🔥🔥🔥🔥😍😍😍😍😍😍😍 pic.twitter.com/4at5TUYNzP

— Stephanie Hamill (@STEPHMHAMILL) June 19, 2019
He also shared his campaign promises. These included finding a cure for cancer, eradicating AIDS, Mars landings, and healthcare reform, and stronger immigration laws.
Another rare romantic public moment that the Trumps shared was when they left the White House for Florida. The pair walked hand-in-hand across the South Lawn before boarding Marine One on their way to the rally.
The couple was caught sharing a warm smile as they held onto each other. At the time, the first lady had dazzled with a $2,290 white eyelet dress from Andrew Gin and red polka-dot heels.
She accessorized with black sunglasses.