Tiffany Is Accompanied by Siblings at Donald Trump's Re-Election Campaign Rally
On Tuesday, President Donald Trump officially launched his re-election campaign in Florida. Almost all his children were present including his daughter Tiffany Trump.
President Donald Trump, 73, and the first lady Melania Trump, 49, were joined by the president's children at his 2020 re-election rally in Orlando. His daughter Tiffany Trump, 25, was joined by almost all of her siblings to support her father. 
For the occasion, she wore a black blazer-style dress and white heels. She was accompanied to the event by her boyfriend Michael Boulos, 25.
En route to Orlando! Here we go again! Let's #KeepAmericaGreat! #2020 #USAUSAUSA pic.twitter.com/oYR9pXzl33

— Eric Trump (@EricTrump) June 18, 2019
Her siblings Donald Trump Jr., 41, Ivanka Trump, 37, and Eric Trump, 35, were all present. However, their younger brother and the youngest sibling, Barron Trump, 13, was the only Trump child missing.
Barron is Melania and the president's only child together. Attending the rally was another big step for Tiffany to show her support to her father as she usually prefers to stay on the sidelines.
This was the second public event in the last week that Tiffany has partaken in with her stepmother, father, and siblings. On June 3, she attended the State Banquet at Buckingham Palace in London.
Round two starts tonight 👊🏽🇺🇸 #LetsGo #FourMoreYears #MAGA pic.twitter.com/Aon2ZgyQBy

— Lara Trump (@LaraLeaTrump) June 18, 2019
The US president was invited by the Queen for a state visit. The event was also attended by Royal Family members like Prince Charles and his wife Duchess Camilla.
Tiffany is currently studying law at Georgetown University and her third year is set to begin at the end of the summer.
Such a wonderful evening in honor of the Prince of Wales and the Duchess of Cornwall at Winfield House 🇺🇸❤️🇬🇧 @realDonaldTrump @FLOTUS #USStateVisit pic.twitter.com/LjUfjEGpa2

— Tiffany Ariana Trump (@TiffanyATrump) June 4, 2019
Reports state that Trump fans stood in line for 36 hours to be able to attend the president's 2020 campaign launch. Around 20 000 people attended the event.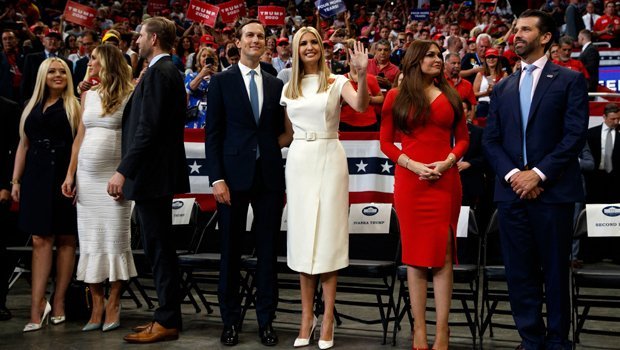 After launching his 2016 election campaign with the slogan "Make America Great Again (MAGA)," this week the president revealed his new one which was derived from the one people currently know. His new slogan is "Keep America Great!"