Melania and Donald Trump Head to Orlando, Florida Hand-In-Hand for the Re-Election Rally
The First Lady of America, Melania Trump, looks flawless in an embroidered white sleeveless dress, as she struts down the road in her husband's grip. 
Both Melania and the President, Donald Trump wore broad and happy smiles as they held each other's hands while leaving for Florida, where the President's 2020 rally took place.
The First Lady looked all glazed up in her ensemble of a white, round-necked below the knee outfit slated for $2,290, from Andrew Gin couture; the dress did justice at accentuating her figure.
That was not all, her accessories alongside her red polka-dot heels crowned a cheeky look, not to forget her perfectly groomed nails! No wonder Trump had on a wide grin, and even put on a little display of affection by firmly cupping his lady's hands in his, as they strode along the South Lawn.
Shutters ran wide, as the duo walked down taking recognition of the paparazzi around, and letting out more than enough smiles to show their team spirit!
It was not just the savvy look of 49-year-old Melania in dark-colored shades that made the tongue wagging news for the day; The President also dressed in a navy blue suit, a white shirt, and a red tie.
The pair were transported via the Marine One, to the Amway center to campaign in front of over 19,000 supporters.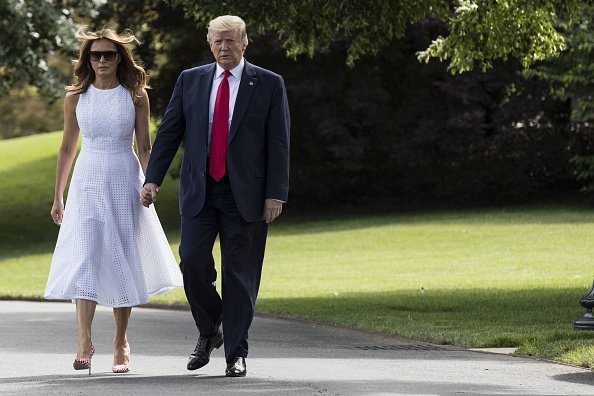 Aside from the thousands of citizens expected to show their support, Trump's immediate family were also at the campaign.
His son, Donald Jr., gave a befitting speech at the event, and he was also in the company of his beau, Kimberly Guilfoyle.
Others who graced the occasion with their presence include 13-year-old Baron Trump, Tiffany, Ivanka Trump, Jared Kushner — not forgetting, the current Vice President, Mike Pence.
The President's excitement could not be curtailed as he went on Twitter to share how the gathering of the large crowd seemed to be record-breaking!
Reportedly, people came in multitudes to show their support for the Trump administration to run a second term. All the seats were taken, and some fans had to rent tents, while others waited in turns.
At the event, Melania welcomed the President on stage; this is not usually the order of things, maybe her stunning look was responsible, who knows?