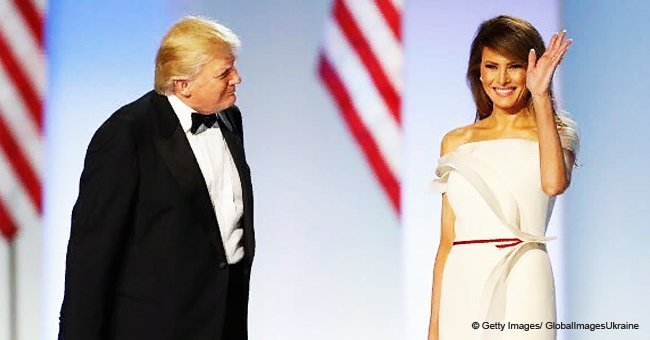 Melania and Donald Trump were photographed holdings hand on the 4th of July
Donald and Melania Trump, one of the most powerful couples in the world, were seen holding hands during the White House's Fourth of July picnic.
The event took place on Wednesday, July 4, 2018, and served to celebrate the independence of the United States, as well as all the brave men and women who fight for the red, white and blue.
According to Hollywood Life, it was a surprise to see the U.S. President and the First Lady engaging in a public display of affection, even if it was just a small one, considering their past in that department.
Trump addressed the picnic guests from the Truman Balcony, where he thanked the members of the country's armed forces for their service and for keeping America 'safe, strong, proud, mighty and free.'
Please consider following us on our Twitter account @amomama_usa
After the speech, Trump, wearing a dark navy suit, and Melania, sporting a blue and white checkered dress, were spotted holding hands as they proceeded to the South Lawn, where they greeted several guests.
Seeing the couple holding hands was somehow unusual, especially after the incident that took place during Emmanuel Macron, the French President's, visit to the White House in April.
When the group gathered at the South Lawn for a quick photo shoot, the U.S. President tried to get a hold of his wife's hand, but she was caught by the cameras trying to resist him.
Trump was persistent and, eventually, Melania gave in but not before the awkward interaction, which found its way to the world through television and the internet.
But that wasn't the only occasion in which the First Lady of the United States refused to hold hands with her husband. In 2017, during a trip to Israel, Melania was filmed swatting Trump's hand after he tried to grasp it.
According to Douglas Brinkley, a presidential historian, these situations reveal athat their marriage isn't 'hinged right,' and even went on to call it the 'most awkward presidential union in modern times.'
Please fill in your e-mail so we can share with you our top stories!