Prince William Turns 37: Long Live the Future King
Happy Birthday, Prince William! The royal prince is slightly younger than his gorgeous wife, but he's got lots of responsibilities and is likely to inherit the throne. 
Prince William was born on June 21, 1982, to Prince Charles and Princess Diana. He is 37 today, but a look at his past will help us understand the prince we have in front of us. We'll wrap up with a look at his possible future. Meanwhile, so many reached out to wish the prince a Happy Birthday.
Happy Birthday to The Duke of Cambridge!#HappyBirthdayHRH pic.twitter.com/VinmSxNVnH

— The Royal Family (@RoyalFamily) June 21, 2019
His past was less royal than one might think
At just 12 or 13, Prince William was treated to a visit from three of the biggest models at the time, reported Newsweek. Just guess who invited them — his mother, Diana. 
A 2017 documentary revealed that the modern princess reached out to Cindy Crawford, Christy Turlington, and Naomi Campbell. They waited for William to arrive home one day to greet him. It must have been a great surprise for the budding teen.
When he was 18, William worked as a volunteer for the Raleigh International Charity in Southern Chile. It was at a time he was off from school for his gap year, just before he attended university. 
Prince William was down to earth
He taught English, kayaked, played soccer, danced, and even learned tracking skills to find rare animals. Most importantly though, the prince developed his social skills by meeting new people and getting a better sense of different personalities. 
William attended Scotland's St. Andrew's University where he upped his surfing game from boogie boarding to real surfing. He described it as "putting your head in a freezer" when going underwater. 
🎉🎉🎉 Happy Birthday to the Prince William, Duke of Cambridge 🎂😘 God bless you and your beautiful family 🙂 #HappyBirthdayHRH 💜💜💜 pic.twitter.com/driWYBrGNt

— KIRTY DWH (@kirty_dwh) June 21, 2019
He accepted new responsibilities
Two years later in 2006, 24-year-old William gained the title of President of the Football Association which was previously held by Prince Andrew. The governing body is England's oldest, at 155 years old. 
From then on, he's had to do the annual pass of The Football Association Challenge Cup to the national competition winners. The team can then move on to the UEFA Europa League, which involves all of Europe.
His wife and family make up his present
By 2011, Prince William was getting married to Kate Middleton. The two are now the Duke and Duchess of Cambridge and have three little Cambridge children in their camp. 
Happy BDay Prince William 😍🤗 pic.twitter.com/xFmGpzQyJz

— Catherine And William 🇧🇷 (@kateandwillian) June 21, 2019
Middleton is only five months older than her husband so they're fairly matched in age. However, the duchess has delivered Prince George, five, Princess Charlotte, three, and Prince Louis, one, so she's definitely done a lot for the royal household and as a woman in general. 
His future is pretty decided
Now about the prince's future. William is second in line to the throne, which means he'll more than likely be the next king of Britain. As regards birthday tradition, we wonder if he will have two of those as his grandmother did. 
Normally, the monarch celebrates their birthday publicly in the summer through the event called Trooping the Color. The Queen just did hers two Saturdays ago. 
However, the reason the tradition came about was that King George II's birthday fell in November, a Winter month. He wanted to be able to frolic in the sun instead, so he created the summer celebration. 
And it's more convenient for royal fans
It's been carried down every year since 1748, with only two monarchs celebrating their birthday on its actual date because it fell in the summer. Since Prince William's birthday also fulfills that condition, will he be able to do the same? 
Well, not really. Due to the emergence of regular working days, Trooping the Color is now only celebrated on a Saturday. So unless and until William's birthday falls on one, he'll likely have to keep his actual birthday as a private matter and celebrate publicly on a Saturday. 
He continues to be a gentleman as he gets older
In the meantime, the prince doesn't get any week-long birthday celebrations either. Yesterday, he joined the queen for the Royal Ascot horse-racing event. His wife Middleton also tagged along, as well as Prince Charles and Camilla, Duchess of Cornwall. 
🎈 Thank you everyone for your lovely wishes on The Duke of Cambridge's birthday! pic.twitter.com/LaOhiFrpqO

— The Duke and Duchess of Cambridge (@KensingtonRoyal) June 21, 2019
William looked dapper in a black suit and a matching top hat. Next to him, the duchess of Cambridge looked elegant in a light blue semi-sheer dress designed by Elie Sabb and a Philip Tracy hat. At one point, the prince sweetly held an umbrella over his wife to protect her from the rain. 
The gesture was reminiscent of last year when the Duchess of Sussex Meghan Markle held an umbrella over her husband Prince Harry who was giving a speech in Australia in the town of Dubbo.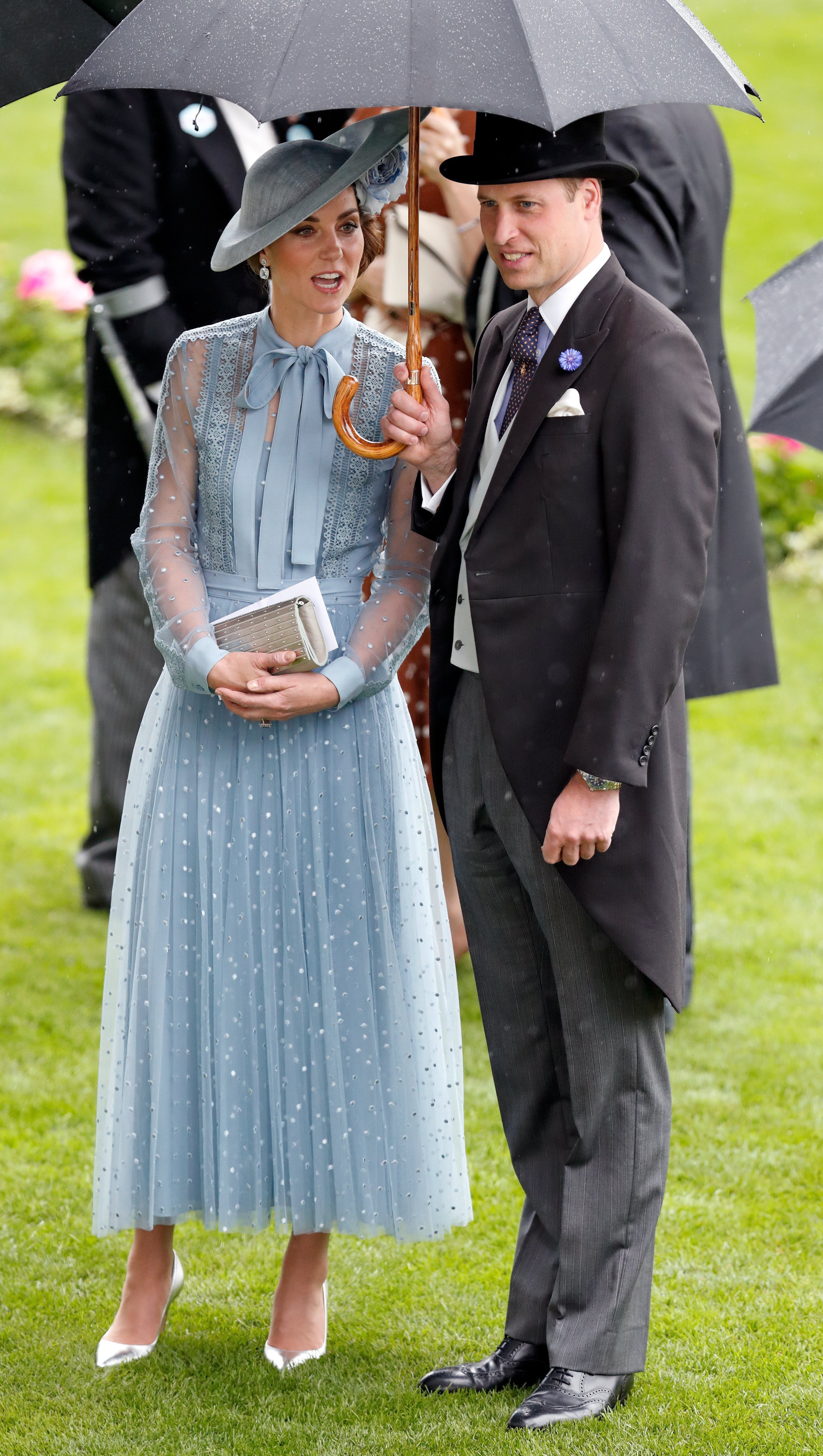 At the Royal Ascot, the queen also wore blue, opting for a coat and an Angela Kelly hat. She rode with Netherland's King William-Alexander and Queen Maxima. It's business as usual for Prince Willam's birthday, but we're sure he's somewhere enjoying it right now.