Prince William Shields Kate Middleton with an Umbrella in a Pose Reminiscent of Prince Harry & Meghan Markle
On Tuesday the 2019 annual Royal Ascot horse racing event began in London. Prince William and his wife Duchess Kate were on hand for the day's activities which saw them recreating a cute moment that occurred between another Royal couple.
Even though it was a rainy start to the Royal Ascot event, a number of people were sure to attend. Prince William and Duchess Kate were among them and they were so relaxed at the event that they manage to share a couple of romantic moments together. 
The Royal couple isn't known for showing affection publicly and are more reserved most of the time. However, this week they were able to let down their guard just a little bit.
Ascot Racecourse was founded by Queen Anne in 1711, and has since received the patronage of a further eleven monarchs. The Ascot summer race meeting officially became a Royal week in 1911.

Read more here: https://t.co/jWza3alCfs

— The Royal Family (@RoyalFamily) June 18, 2019
At one point, Duchess Kate was seen with her hand affectionately placed on her husband's arm while they spoke with another couple, Zara and Mark Tindall. The pair even had a moment reminiscent of one shared by Prince Harry and his wife Duchess Meghan.
The rainy weather brought out the gentleman in William when he was pictured holding an umbrella over himself and his wife. The moment was quite similar to Harry and Meghan's one that happened last October.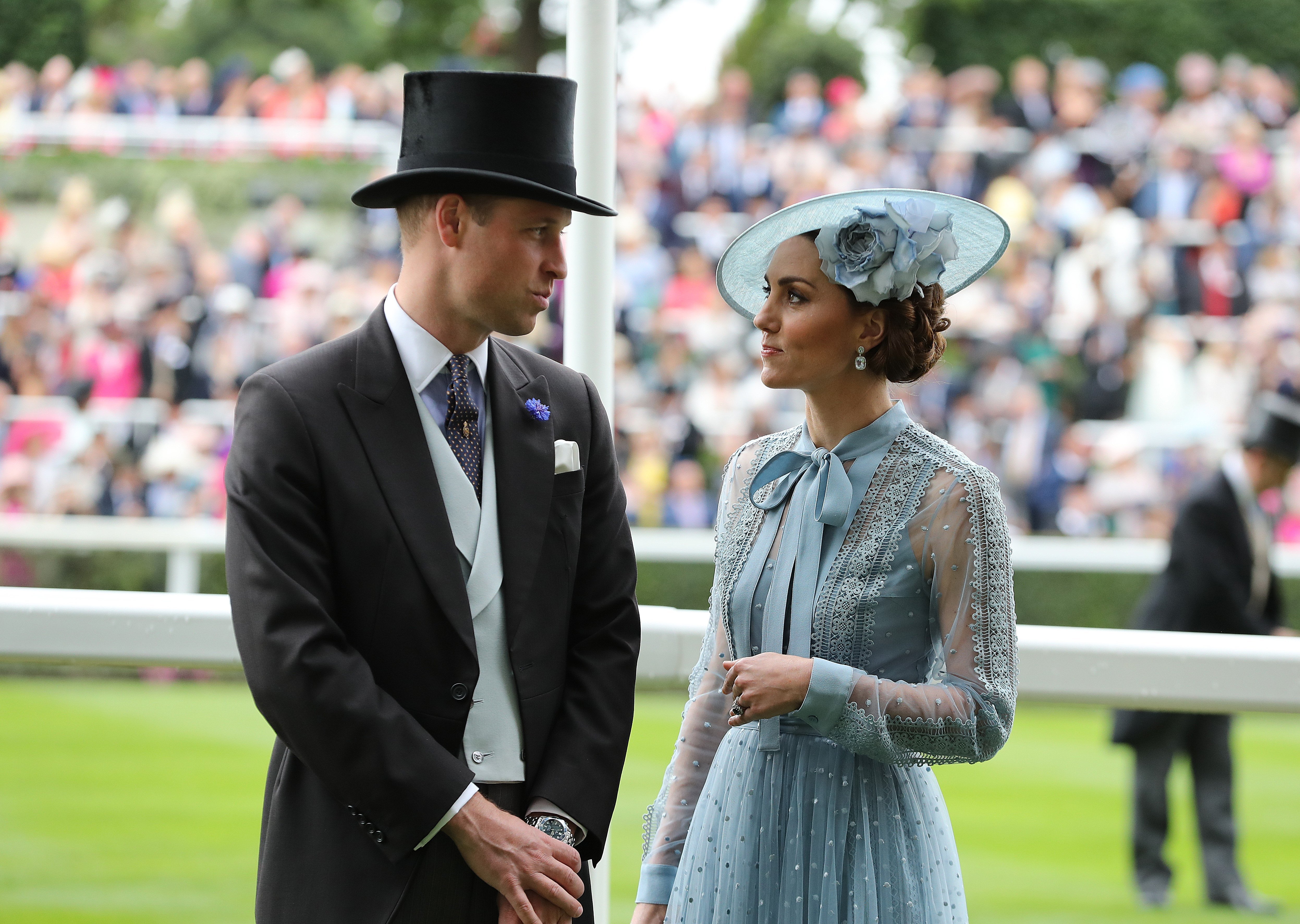 While on a Royal tour to Australia, Duchess Meghan – then pregnant - was seen holding an umbrella over her husband while he gave a speech. At the time it was pouring with rain.
During the racing event, Kate was also captured smiling while looking at her husband tenderly. He was pictured shaking hands with an attendee at the time.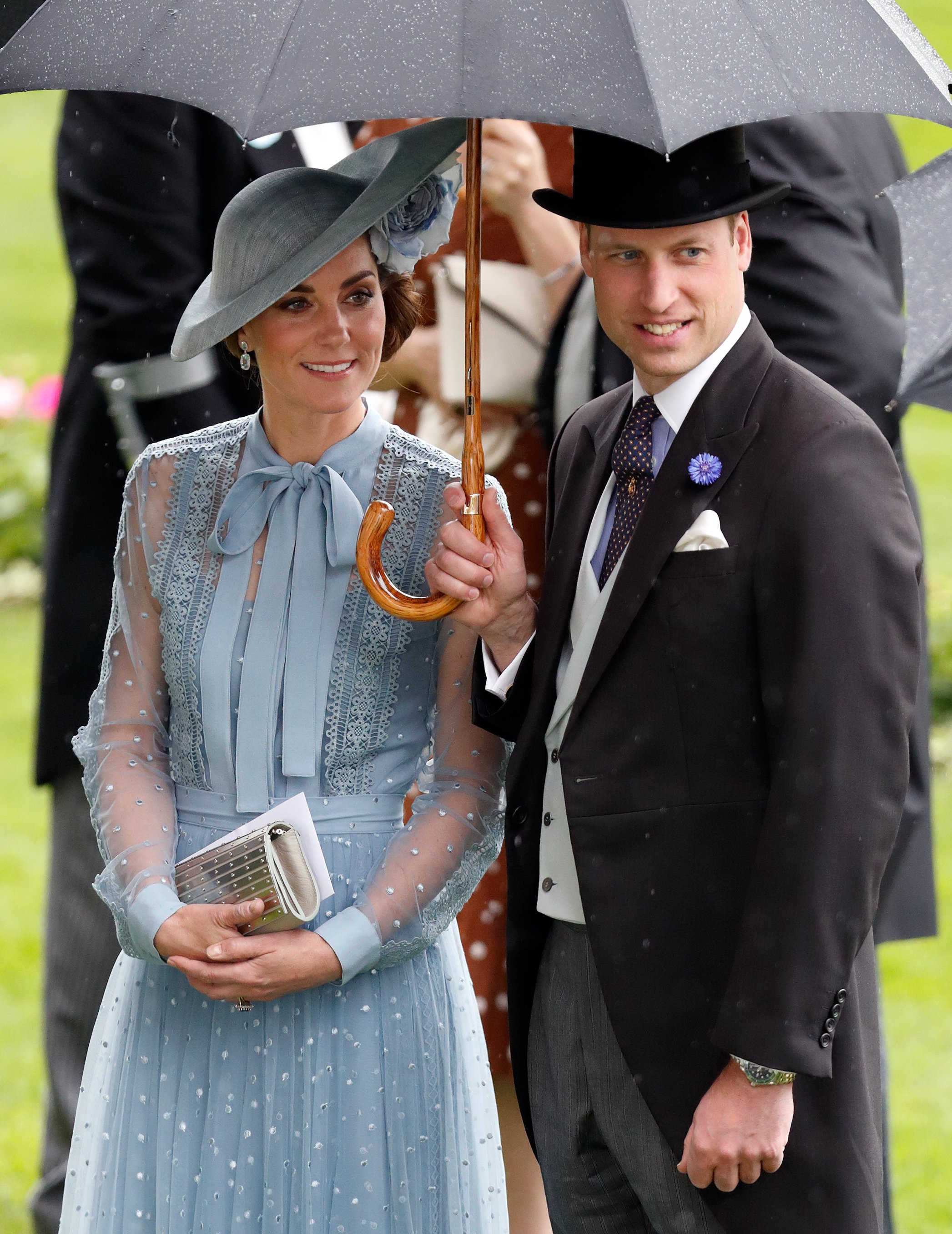 The couple appeared to be bonding as they shared a laugh together in another image. For the occasion, Kate wore a blue cornflower dress with sheer sleeves by Elie Saab.
She added a matching Philip Treacy hat with flower details to complete her look. Her husband wore a black suit which complemented his wife's outfit by featuring some blue elements.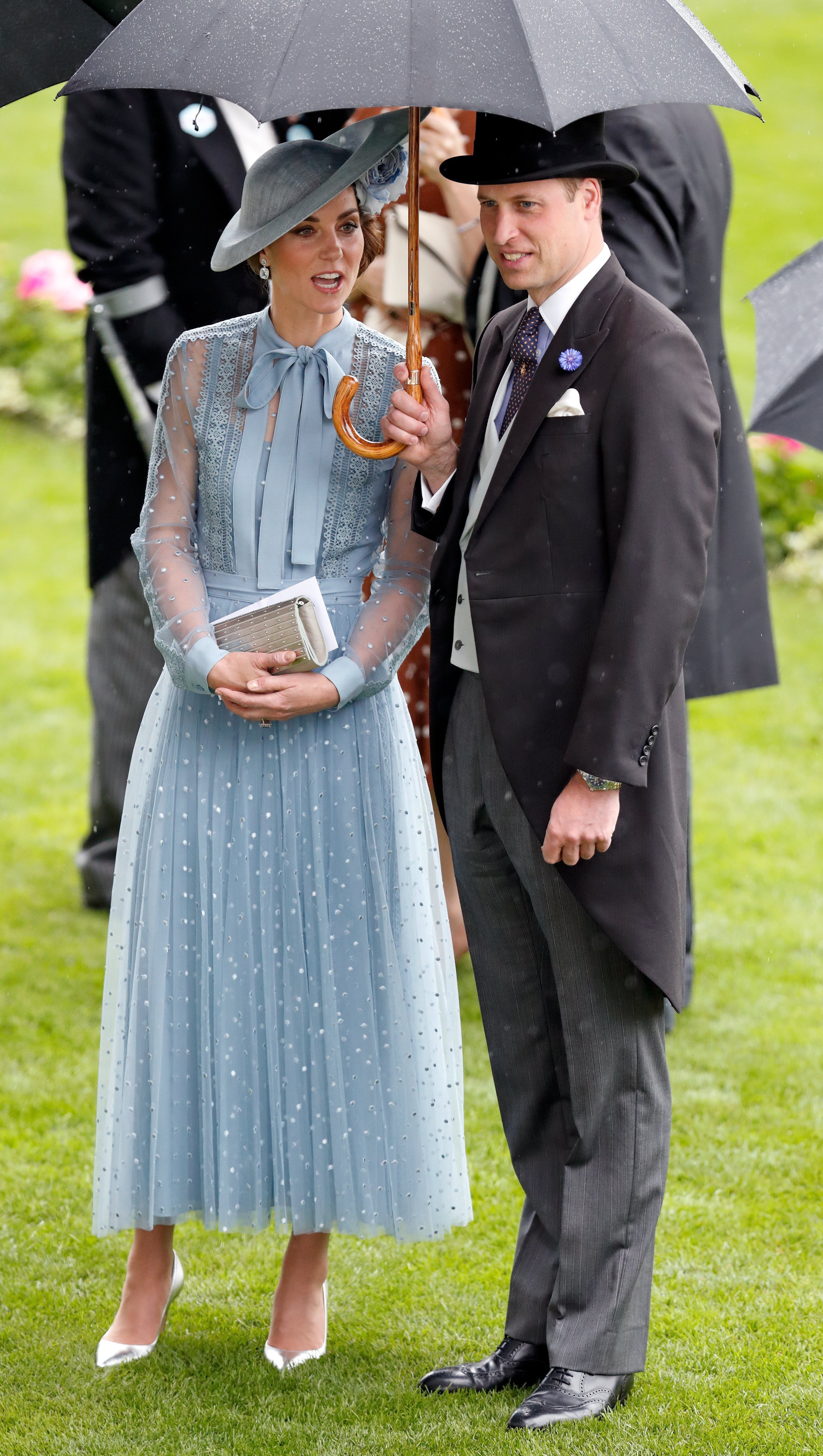 He added a black top hat to his look and carried a black umbrella. His father,
Prince Charles
and Duchess Camilla were also on hand at the event.
Meghan Markle held an umbrella for Prince Harry while he braved the rain and gave a speech at Victoria Park in Australia's Dubbo on Wednesday. pic.twitter.com/PFJzWfbA29

— NBC News World (@NBCNewsWorld) October 17, 2018
While on tour in Australia, Harry and Meghan visited Dubbo. While Harry gave a speech to the farming community in the area it suddenly began raining and his wife covered him with an umbrella. 
The community has been suffering major drought issues over the past few years.