Seven People Killed in Major Collision between Truck and Motorcycles
Seven people lost their lives and three were left severely injured after a crash between a pick-up truck and motorcycles on a rural road in New Hampshire.
The collision took place on Route 2 in Randolph, about a two-hour drive North of Concord, a major road used by residents and tourists traveling above the White Mountains.
It has been reported that most of the victims were members of the Marine JarHeads MC, a New England club for Marines and their spouses.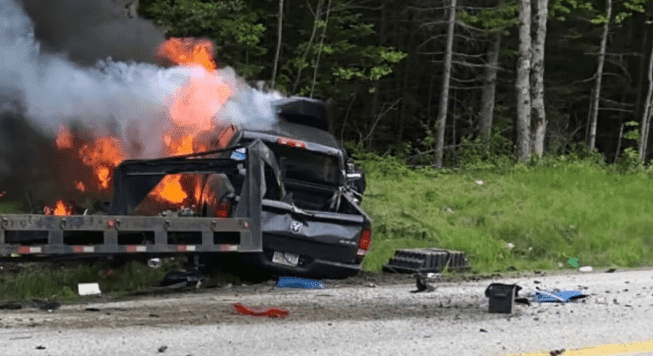 THE VICTIMS WERE HAVING A GOOD TIME BEFORE THE INCIDENT
Capt. Chris Vetter, from the New Hampshire State Police, described the incident as very tragic for those involved, especially the victims' families.
According to Travis Hood, a man who was driving behind the truck at the time of the crash, he tried to help one of the injured bikers until the emergency services arrived.
He said:
"I held his hand, and I tried to get him to, I'm like, 'Squeeze my hand. Stay with me. You're a strong guy. You've got this.' Toward the end, when the ambulance got there, I could feel him losing strength."

A SHOCKING SIGHT
Hood wasn't the only one who tried to help. Jerry Hamanne, the co-owner of a bed-and-breakfast located around 500 feet away from the scene, also rushed in to assist the victims.
Unfortunately, most of them were already dead, an image that Hammane wishes he will never see again. "It was so devastating to see the bodies on the road," he said.
Two of the victims were transported to local hospitals while a third one had to be transported by air to a hospital in Maine due to the severity of the injuries.
Most of the victims were members of the Marine JarHeads MC, a New England club for Marines and their spouses
I'm currently on scene in Randolph New Hampshire where a truck and a group of motorcycles crashed Friday leaving seven people dead. I'll have a full report tonight on @wcax pic.twitter.com/KlrSxyAGMw

— Ike Bendavid WCAX (@IkeBendavid) June 22, 2019
COLORADO CHAOS
Back in April, multiple people died in a massive crash involving 28 vehicles on a highway in Colorado. The incident was caused by a man named Rogel Aguilera-Mederos, who slammed his semitrailer into several stopped cars during a traffic jam.
Firefighters still working some hot spots on I-70 at Denver West. In all, 6 patients from the multi-vehicle crash and resulting fire were transported. @ColoradoDOT engineers on scene to check bridge stability. Firefighters also dealing with diesel fuel spill. pic.twitter.com/8pNg2yL1QP

— WestMetroFire (@WestMetroFire) April 26, 2019
The 24-year-old is now facing homicide charges after four people lost their lives in the horrific crash, which was described by a witness as "complete chaos."