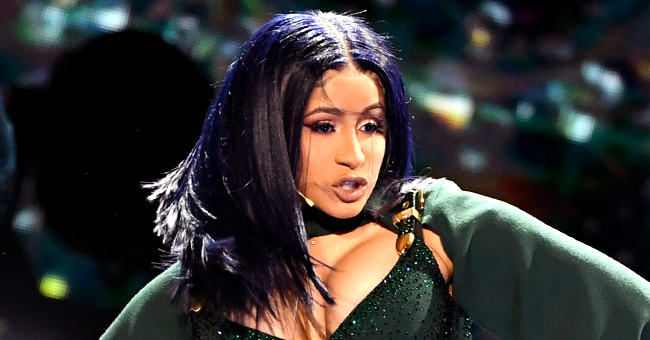 Getty Images
Cardi B Indicted by Grand Jury After Alleged Assault in NY Strip Club
Cardi B has officially been charged with assault and 2 other felonies after causing trouble at a New York strip club last year. The rapper was arrested back in October for ordering an attack on the club's bartenders, and now she's officially been indicted for it.
A grand jury indicted Cardi B on multiple charges, including two felonies following last year's brawl at a New York strip club.
Wreaking Havoc at a Strip Club
Back in October, she was arrested for ordering an attack on two of the club's bartenders, Jade and Baddie G. The two women filed a report against Cardi after they claimed that they were injured during the brawl where Cardi's companions started throwing bottles and even chairs.
The incident, which happened in August 2018, began when Cardi accused Jade of having an affair with her husband, Offset. Ten months after the altercation, a grand jury finally indicted Cardi on 14 charges, including two counts of felony for attempting to cause serious physical injuries. Other charges include misdemeanor reckless endangerment, assault, criminal solicitation, conspiracy, and harassment.
Added Charges against Cardi
Her previous charges were assault and reckless endangerment, but the grand jury superseded these and stated a whole lot more.
Cardi ultimately rejected a plea deal which would've granted her conditional discharge if she pled guilty to one misdemeanor. Now that she's crossed this out of her options, she has to behave or else she's in deep trouble with the law.
Business as Usual
While she may be heading to court soon, Cardi doesn't seem fazed. She recently attended the ASCAP Rhythm and Soul Music Awards in Beverly Hills with her husband, where she won an award for "Songwriter of the Year."
In October, Cardi was arrested after she turned herself in. This was in response to the investigation against her for the alleged assault at the Angels Gentlemen's Club.
The "I Like It" rapper spent one Monday morning at the 109th Precinct in Flushing, where she arrived with her bodyguards. She was later on released on a "best appearance ticket," which means she paid bail.
Since then, luck hasn't been in Cardi's favor, as she's getting charged for a whole lot more than what she was initially charged, and this could mean jail time for her if she and her team end up being proven guilty for the brawl.
For now, Cardi has been making the most out of being a free woman, attending awards shows, completing tour shows, and taking care of her daughter.
Please fill in your e-mail so we can share with you our top stories!