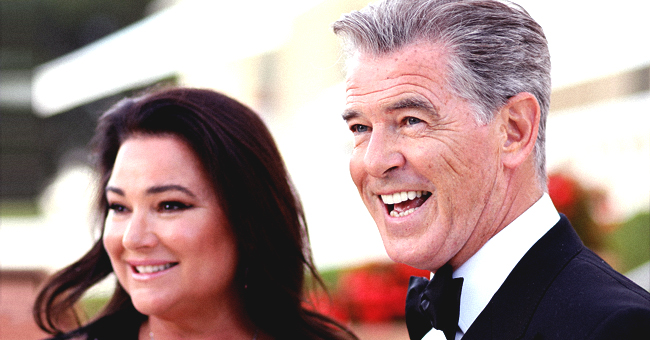 Getty images
Pierce Brosnan's Wife Keely Shaye Smith Looked Stunning When She was Young
Pierce Brosnan's wife looked stunning in her younger years, and they share a unique relationship that has spanned two decades.
Pierce Brosnan's wife, Keely Shaye Smith, after two children — Dylan, 21, and Paris, 17 — went through a transformation that left her with a plus-size look.
Before motherhood and the weight gain, Keely who used to be a model looked slim with a trimmed body.
In an old picture of her and Brosnan at the beach, the mother-of-two wore a light blue-coloured two-piece swimsuit, while the former "James Bond" actor wore only shorts, leaving his upper body bare. Keely looked youthful and stunning, and she still looks that way except for the weight gain.
However, despite the changes in the former model's body, her actor husband remains devoted and in-love with her.
The couple who love showing affection to each other publicly, recently celebrated their 25th anniversary, and they were photographed holding hands while riding bikes in California.
They equally share a deep connection, and Brosnan once said in an interview that Keely is his north star, and always look out for him.
The "Mamma Mia!" star also described his California-born wife as passionate, adding that she has a strength that he cannot live without.
The former model is not the actor's first wife; the Irish-born actor and Australian actress, Cassandra Harris, were married before she died of ovarian cancer in '91.
At the time the couple met in '94 at a party in Mexico, Brosnan was still grieving for his deceased wife and has often said that Keely encouraged him to mourn Harris.
After the '94 meeting, the 65-year-old actor and the former model started dating and married in 2001. The two share common interests and are both activists for environmental and animal rights causes.
Apart from modelling in her younger years, Keely also worked as an actress for a little while in '80s productions like "Norman's Corner," "Opponent," and "General Hospital."
The former actress equally worked as a journalist and continues to work as one. So far, beginning from the '90s, Keely has worked as an environmental correspondent for ABC's "The Home Show," and the NBC primetime show "Unsolved Mysteries."
The media personality is a recipient of several awards for her contributions to sustainable environment campaigns; she has an award from Women in Film and two Genesis Awards.
Brosnan and Keely have shown that love goes beyond physical outlook, and the two look forward to spending more years together.
Please fill in your e-mail so we can share with you our top stories!