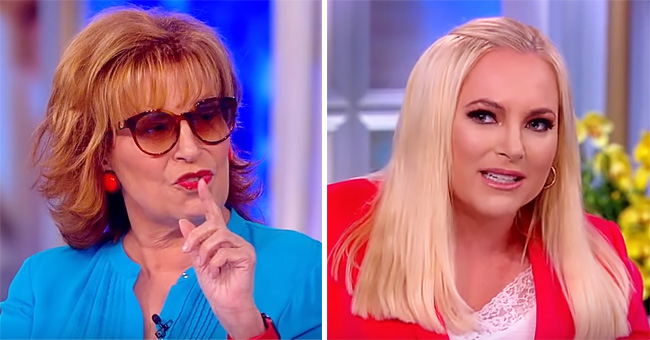 Youtube/The View
Meghan McCain Brings Her Late Father John into a Heated Debate over Migrant 'Torture Facilities'
Any episode of ABC Network television talk show, "The View" that has Meghan McCain and Joy Behar present is sure to have some heated debate in it. The two co-hosts were at it again as the panel argued over Migrant facilities, prompting Meghan to bring her late father into the conversation.
The last episode of "The View" had the panelists talk about the welfare situation present in migrant facilities at the border. The panelists' disagreement this time arose from the way and manner in which people characterized President Donald Trump's migrant camps.
A lot of talks has been ongoing over the bad situation of the camps. Panelists, Joy Behar, and Sunny Hostin believed many children at the camps faced torture, highlighting the fact that some children have died since this administration took office. Meghan, on her part, thought that referring to the migrant camps as torture camps were not right.
MEGHAN'S ARGUMENT
After Joy Behar and Sunny Hostin spoke about the torture children faced at the camps, Meghan took offense at the fact that the centers were labeled as Torture centers.
To back up her argument, she brought up her late father's time in Vietnam's Hanoi Hilton prison, where he was tortured so much that he could not lift her over his head when she was a child.
She, therefore, argued that it was wrong for people like representative Ocasio-Cortez to tag the camps as concentration camps.
She further said that she understood that there were humanitarian crises at the migrant camps; but that it still didn't warrant them being called torture camps, as she had been to a concentration camp before and knew what it was like.
She further explained that there was a big difference between a torture camp and a migrant camp.
JOY BEHAR AND SUNNY HOSTIN REFUSE TO BACK DOWN
Meghan's co-panelists still didn't buy into her argument. Instead, they insisted that the names the camps were called weren't so much an issue, but rather what was going on in them.
Behar insisted that Ocasio-Cortez's tagging of the camps as concentration camps allowed more attention to be focused on the real issues at the camps. However, Meghan McCain emphasized that it still didn't work for her as a conservative Republican.
TWITTER USERS REACT
Twitter users who watched the episode also aired their views on the panelist's topic of argument. Most of the tweets lashed out at Meghan McCain for bringing her father's time at Vietnam into the discussion and comparing the situations. The tweets also mentioned that America should treat migrants better.
THE JOY BEHAR AND MEGHAN McCAIN CONUNDRUM
Joy Behar and Meghan McCain never seem to get along on the show. Most times, Meghan is never pleasant to her co-panelist, and this has raised eyebrows from the fans of the show. One person who reacted to this is former co-panelist of "The View," Rosie O'Donnell who wants Meghan to stop being mean to Joy Behar on the show.
She understood that Meghan was going through a tough time with trying to get over her father's death, but still reiterated that she shouldn't be mean to Behar who was a living legend and a role model to many.
Please fill in your e-mail so we can share with you our top stories!