Joan Crawford's Adopted Daughter Christina Reportedly Gets Candid about Mom's Abuse and Attempted Murder
Christina Crawford got candid as she reportedly opens up about her mother, Joan Crawford's abuse and attempted murder, amid other revelations.
In 1978, Christina Crawford wrote a memoir titled "Mommie Dearest," chronicling her childhood and life with her adoptive mother, Hollywood superstar, Joan Crawford.
Now, over three decades later, Christina reportedly got more candid with The Guardian, shedding light on what she called her "Mom's abuse and attempted murder."
The author told the news outlet that as a child, the late Joan tried to kill her on different occasions by strangulation, and hitting her head and face against the wall.
Christiana said she once stared death in the eye, and when she was thirteen, she realised that the late actress didn't love her and was incapable of loving anyone.
The worst part according to the 80-year-old author was the fact that she could not get help from the authorities as she grew up in a time when there were no child protection laws; the laws came into effect in 1974.
Joan Crawford and her daughter Christina Crawford in Los Angeles on this date April 17 in 1946. Photo credit: AP. pic.twitter.com/islNjh8IGY

— Dr. Jeffrey Guterman (@JeffreyGuterman) April 17, 2019
The former actress recalled that when she was between the ages of 13 and 14 after Joan attacked her, the "Whatever Happened to Baby Jane" actress called the police on young Christina, accusing her of being a delinquent.
The police told Christina that he would put her in Juvie if he got more calls from her mother, after telling the teenage girl that there was nothing he could do for her.
Christina told the news outlet that if the renowned actress were living in today's world, she would be in jail for attempted murder, adding vehemently, "That's what she deserved," as there's no excuse for her mother's behaviour.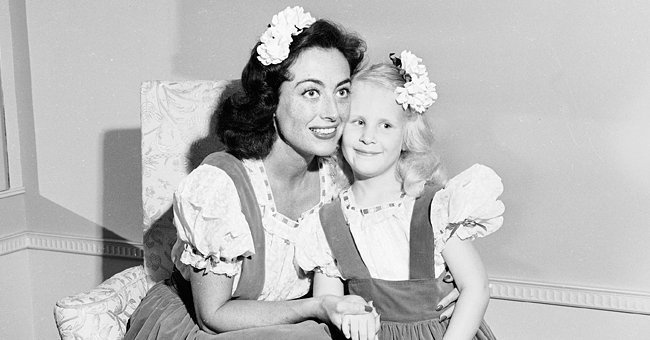 In a similar interview in 2008, the four-time published author, had these views, saying at the time that she would never forgive her mother for the pain she put her through.
While Christina is firm in her belief that Joan was an abusive mother with murdering tendencies, her siblings, Catherine and Cynthia, disagreed with this view.
The only sibling who corroborated her story is her brother, Christopher. In all, Joan adopted five children but had one reclaimed by his mother.
Out of the four, the actress trained, Christopher and Cynthia died within one year of each other in their sixties, and not much is known about Catherine.
Despite the problematic childhood, Christina said she had, she overcame it and has learned to live her life without dwelling on the past.