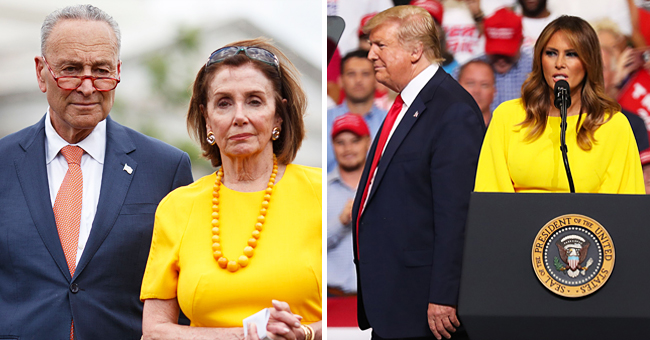 Getty images
Nancy Pelosi's Bright Yellow Dress Brings to Mind Melania Trump's Similar Chic Outfit
The Democratic Speaker of the House and the US First Lady might be on opposing sides when it comes to politics, but fashion might be the thing that brings them together, as recent choices of outfits seem to prove.
79-year-old Nancy Pelosi and 49-year-old Melania Trump wore strikingly similar outfits in public appearances that took place within the same week, drawing attention to their respective styles after the curious coincidence.
On June 20, Pelosi took to Twitter to dedicate a friendly message to Canadian Prime Minister Justin Trudeau after his visit to Washington D.C. where he met with both President Donald Trump and the Democratic leader.
PRETTY IN YELLOW
In the images shared by Pelosi, she is seen wearing a yellow dress that reminds of the yellow pantsuit one wore by the US First Lady during a 2020 campaign rally in Orlando, Florida.
"It is always a pleasure to visit with you, @JustinTrudeau – I hope you enjoy your basket of California's finest. Looking forward to continuing to build on the strong friendship between our two countries!" Pelosi captioned her post.
The Speaker of the House's caption referred to the friendly wage she lost to 47-year-old Trudeau when the NBA Toronto Raptors beat the Golden State Warriors at the finals.
A FRIENDLY WAGE
During Trudeau's official visit to the US, the Canadian Head of State used the opportunity to exchange gifts in accordance to the sports match outcome, with the two appearing together in front of the press celebrating the gesture of goodwill between the two neighbor countries.
"He might want to talk sports, I think that's off limits. But in any event, Canada is our trusted neighbor, our relationship is a warm one, and I'm honored again to have the Prime Minister visiting," Pelosi said.
"On basketball, I really do have to recognize the Warrior's graciousness and the extraordinary sportsmanship they showed," Trudeau conceded.
"It was a tremendous battle between the Raptors and the Warriors, and I think that we can all agree that basketball fans got an extraordinary season out of their amazing players," he added.
True to her word, Pelosi then proceeded to present Trudeau with a basket full of California-made gifts, which included "chocolate, almonds, walnuts, pistachios, and wine."
CHOCOLATE AS A POLITICAL STATEMENT
"Canadians are gracious in defeat and even more gracious in victory," Trudeau stated before also presenting Pelosi with some gifts in return, even when he had won the bet.
Apart from putting together some Raptors-related merchandising that he jokingly said Pelosi probably was never going to wear, Trudeau made a point by adding chocolate from a Canadian company called "Peace by Chocolate," started by a family of Syrian refugees established in the country since 2016.
TRUMP'S ORLANDO CAMPAIGN RALLY
As of First Lady Trump, she was praised for her display of good taste when it comes to fashion when she stepped out on her canary yellow jumpsuit to support her husband in his re-election campaign.
"It has been my honor to serve as First Lady of this incredible country for the past two years. And I'm excited to do it for six more!" Mrs. Trump said to the crowd.
"I'm proud of all that my husband, his administration, and my entire family have done on behalf of the American people in such a short time," she went on.
"He truly loves this country and will continue to work on your behalf as long as he can," Mrs. Trump added.
Please fill in your e-mail so we can share with you our top stories!