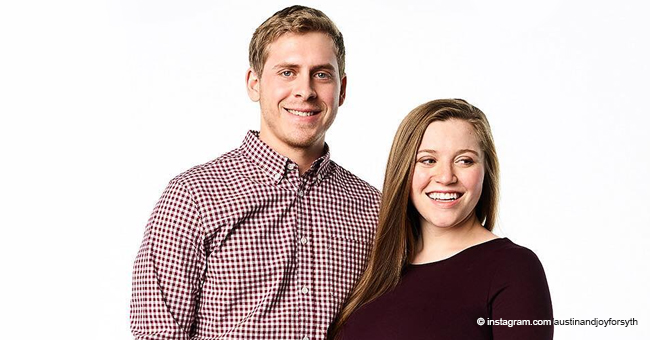 instagram.com/annaduggar
Joy-Anna Duggar's Happily Ever After
Joy-Anna Duggar grew famous. She starred on the TLC reality television shows "19 Kids and Counting" and "Jill & Jessa: Counting On" with her family. Needless to say, the fifth daughter born of Jim Bob Duggar and Michelle Duggar is no stranger to the spotlight.
In fact, Joy-Anna like many of the Duggars sparks curiosity in fans of the show. With the unusual family set up, rules and traditions the Duggars enforce, Joy-Anna's life is a source for intrigue.
The star is currently married to Austin Forsyth and legally goes by Joy-Anna Forsyth. However, she is still considered a Duggar by her fans.
Meeting Austin:
While Joy-Anna's and Austin's relationship was a shock to fans of "Counting On" the pair actually knew each other for a long time before they courted. They actually met about 15 years before they officially became a couple.
They met when Austin's family moved to Arkansas and joined the same church as the Duggar family. In an episode of "Counting On" that aired before they got married, Joy-Anna revealed that they met when she was 5 years old and he was 8 years old.
She also revealed she actually did not like Austin at the time. She called him young and immature before adding that at the time she was as well.
However, as they got older that changed. She revealed that she fell in love with his "adventurous spirit" and how hard he works. Since the Duggars enforce strict rules about interactions between boys and girls (and unmarried men and women) the pair likely became friends before courting.
Courting:
When Austin decided he was ready to further their relationship he was required to ask for her father's permission to enter into a "courtship." Courtship is the Duggar's version of dating.
During courtship, the couple is allowed to date under strict monitoring from their family. They are also prohibited from most physical contact.
Once her father agreed, Austin then asked Joy-anna to enter into a courtship with him. In November 2016, the couple officially announced their relationship.
In the video, Duggar admitted that she was surprised by the proposal. However, she went on to say she was extremely happy and excited to explore her future with Austin.
On an episode of Counting On Austin revealed why he wanted to marry Joy-Anna. He said,
"You know, over the years, I have just been watching and I really admire her heart for the Lord and her character. She's such a diligent worker. She gets all the younger siblings working. She's a good delegator."
Engagement:
By March 2017, the pair were ready to take the next step. They announced their engagement however, their celebration was quickly dimmed by massive controversy on the day.
After the proposal, the newly engaged couple hugged tightly. Unfortunately for them, the hug broke the Duggar courtship rules.
A "Counting On" cameramen happened to capture the private moment on camera. Joy-Anna revealed later that she was unaware that they were being filmed.
"We're humans and sometimes we don't always abide perfectly by our rules," added Austin. "We try. That was a real hard try."
Super quick wedding:
According to reports, the couple originally picked to get married in October 2017. However, they decided to speed up the process and tied the knot soon after their engagement.
They walked down the aisle just two months after their engagement and married on May 26, 2017. They had 1,000 guests attend their ceremony and the wedding featured on a two-hour special episode of "Counting On."
Joy-Anna was only 19-years-old when the couple tied the knot. Naturally, the rushed nature of the wedding sparked massive rumors from fans.
Some felt the couple was forced to tie the knot after their intimate display during their engagement. While others speculated there was more to it than what viewers were allowed to see.
Baby on the way:
Speculation only increased when the couple announced that Joy Anna was expecting their first child months later. The excited pair took to Instagram on August 30, 2017, to announce that they were eagerly awaiting the birth of their child. She wrote:
"Austin and I are SO thankful to announce that we are parents!! Even before we were married we prayed that God would give us children and we are so blessed that he has given us this baby! Jesus is the giver of Life!"
Birth of their son Gideon:
Joy-Anna Duggar and her husband Austin Forsyth welcomed a healthy baby boy, Gideon Martyn Forsyth, on February 23, 2018. In a one-hour "Counting On" birth special, the 20-year-old TLC star revealed her journey leading up to the day.
"I think going through this pregnancy for me has been good," she said. "I haven't really had morning sickness, not a lot of food aversions, so that's a blessing. But at the same time, I think it has been somewhat challenging just because there are a lot of new emotions and hormones and things that I've never had before. Austin's been very gracious with me because I feel like I've been on an emotional roller coaster and he's supported me and encouraged me."
While she planned to have her baby at home, that planned did not work. She was in labor at home for over 20 hours.
Her midwife then determined her baby was breech and Joy-Anna rushed to the hospital. She was immediately taken in for an emergency C-section.
Baby Number 2:
Just 14 months later, the couple revealed that they are expecting their second child together. Joy-Anna's parent's Jim Bob Duggar, 53, and Michelle Duggar, 52 said on their website:
"The Bible is right, there is no greater JOY than seeing your children walk in truth. We have loved watching Austin and Joy build their lives together as a married couple and as parents. Their love for God, each other, Gideon, and others is genuine and inspiring. We could not be more thankful as we watch their lives unfold day by day. A new baby will bring even more joy and blessings to their lives and ours. We are on cloud nine that another grandbaby will make a debut in 2019!"
Austin and Joy-Anna later revealed on Instagram that they are due in November 2019. They wrote:
"Some of you have guessed, some of you had no clue… November 2019 Baby Forsyth #2 is Due! Cannot wait to meet this new little one! Gideon is going to be such a great big brother!!"
Please fill in your e-mail so we can share with you our top stories!