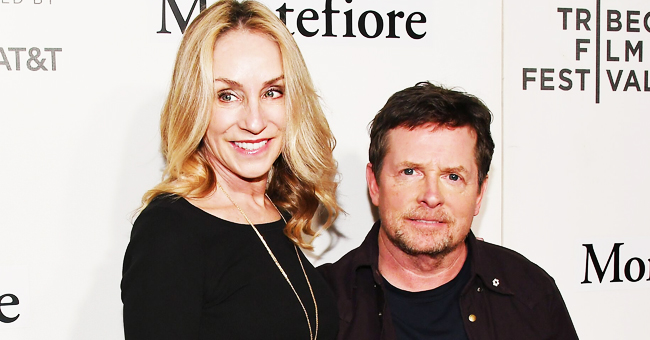 Getty Images
Michael J Fox Pays Tribute to Wife of 30 Years, Tracy Pollan
In celebration of his wife's birthday, veteran actor and filmmaker Michael J. Fox took to social media to share loving photos and words about her.
Michael J. Fox celebrated Tracy Pollan, his wife of over three decades via his official Instagram page, @realmikejfox. Fox's doting affection shines through as he shared three pictures of the svelte beauty with his massive fan following.
The first is of Pollan smiling and looking back. The image which was taken at the beach captured absolute serenity on Pollan who dressed comfortably in a long sleeve red shirt and blue jeans.
The second photo is of sharp contrast to the first as it was taken against the night sky; with Pollan elegantly dressed seated for dinner. It makes for a rather memorable shot with the scenic view captured in the background.
The third, however, includes Michael Fox and this time, Pollan is wearing a floral shirt, with her blonde locks falling past her shoulders as she huddled close to her handsome husband posing for the shot.
As if posting the photos weren't already enough confirmation of Fox's sweet affection for Pollan, the award-winning star penned down a heartfelt message to accompany the shots.
He lovingly wrote.
"Happy birthday @tracy.pollan. You are a perfect summer day. Bright, hot and beautiful. Forever love. Xoxo,"
In evident love and adoration, Pollan responded accordingly by commenting. She wrote:
"Thank you, sweetie! Love you so much and impressed by your swipey abilities! #nina."
Pollan, now 59, is a year older than Fox but even that is hard to tell because of how in love the beautiful pair are. The media regards Fox and Pollan as one of Hollywood's top couples considering that they have been together for 30 years and will soon be celebrating their 31st anniversary later this month.
Knowing how difficult celebrity relationships can become over the years, theirs can be considered a rather great feat. Their relationship reportedly blossomed while they were on the sets of the 1988 film release, "Bright Lights, Big City."
They have been together ever since and once Pollan disclosed that she had found Fox's sense of humour and his brilliance very charming and had been drawn to him.
The "Back to the Future" actor was head over heels too and popped the question after they had dated for exactly seven months. In an interview with "People," Fox explained that even though they'd only spent a short time together, he was still so sure she'd give him yes.
Theirs is indeed a match made in heaven! The pair are now the parents of four beautiful children: Sam Michael Fox, twins Aquinnah Kathleen and Schuyler Frances Fox, and Esmé Annabelle Fox.
Fox and Pollan's admirable relationship has remained one of the things that have earned them a place amongst the most famous couples in the film industry.
Please fill in your e-mail so we can share with you our top stories!