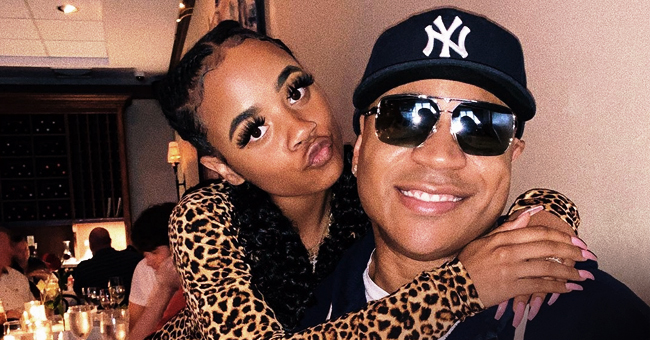 Instagram/ninabandzz
Meet Nina, LL Cool J's Youngest Daughter Who Looks so Much like Him

The baby of the LL Cool J family, Nina looks all grown in a new image she shared with her fans on her Instagram page. The adorable image depicts how much Nina resembles her gorgeous father.
In the image, 18-year-old Nina Simone Smith could be seen slouching and wrapping her arms around her dad, LL Cool J's neck.
LL COOL J AND HIS TWIN
Nina clearly wanted everyone to note how much she looks like her "NCIS" actor dad by captioning the image,
"definitely my father's daughter #twins ?"
However, from what most can garner from the photo which seems to have been taken at a diner, Nina was definitely telling no lies. Some of her fans who commented not only gushed about how pretty she looked but also confirmed how much she looks like the Hip-Hop legend.
FOLLOWING IN HER FATHER'S FOOTSTEPS
Just like her famous dad, the 18-year old is already debuting her musical talents in the industry. The teenager's fans went wild when she released an impromptu cover of Beyoncé's "If I Were A Boy."
Not only were her notes clear, but her voice also sounded undeniably beautiful. Fans had several lovely things such as, "Yesss Nina!!!!" and "Amazing," to say about the performance.
This came as no surprise, knowing that Nina has a talented artist as a father; music does sure runs in the family.
NINA AND HER SIBLINGS
Nina Simone is the last of her father's four kids with wife Simone Smith. LL Cool J's first child, son, Najee Laurent Todd Eugene Smith although inherited his father's good looks did not inherit his music genes. Najee is a successful professional photographer.
The rapper's second child, daughter Italia Smith is now married and his third child, Samaria Smith is also a singer like her father. One thing is, however, common to the kids, they all look like their handsome rap legend father. Well, you already know, the baby of the house is Nina!
LL COOL J STARTED RAPPING AT 9
Just like most kids who grew up in the block, the rapper started his singing and rapping career at a very young age. LL Cool J grew up in Queens, New York and he had to learn to fend for himself at a very young age.
At 16, he started creating demo tapes with the hip-hop group "The Treacherous Three" which he later acknowledged as his early inspiration. Decades later, the actor is not only a successful singer and actor but also the father to four beautiful kids; one of them is his twin, Nina.
Please fill in your e-mail so we can share with you our top stories!