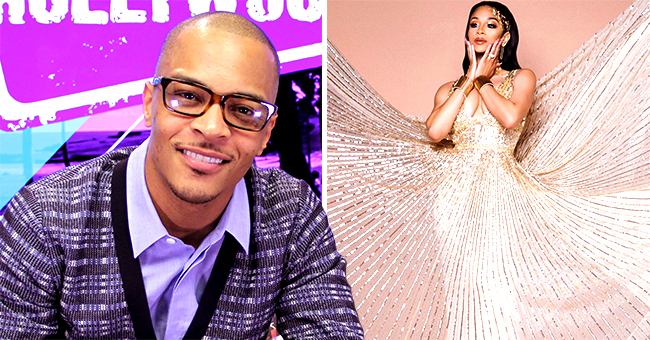 Getty images ; Instagram/princess_of_da_south
T.I.'s Daughter Deyjah Dazzles in Golden Dress after Turning 18

Deyjah Harris just turned 18, and her recent photo in a stunning golden dress just proves how beautiful she's become.
T.I.'s princess is officially grown up now that she's turned 18, having graduated from high school and calling out her potential predators. Deyjah recently called out men by saying that even when she's turned 18, that doesn't mean they can try to date her and that it doesn't make it right for grown men to try and "get at her" at eighteen.
"I just want to quickly say that just because I'm turning 18 in June…that doesn't mean 1. that ya'll will even get the chance to lmaooooooo 2. more importantly, that still doesn't make it right for you grown [expletive] men to try and get at me…eighteen. I will still be A TEENAGER!!! if you're not ok with someone your age tryna get with your daughter, sister, niece, etc. then don't think it's ok with me."
An Angelic Photo
However, she didn't let any negativity get in her way now that she's celebrating her legality, and she posted a stunning photo of herself in a sparkling gold dress that made her look like an absolute angel.
Her proud dad also shared a couple of photos of Deyjah as the cover of her very own magazine, which turned out to be for her birthday party that happened last June 26, Wednesday.
"Such a beauty to behold," he said of his daughter.
T.I.'s Other Children
Tiny and T.I. share seven children together, Zonnique Pullins, Tiny's daughter from a previous relationship, Deyjah, Messiah, Domani, Major, King, and Heiress.
Their big family stars in their very own reality TV show entitled "T.I. & Tiny's Friends & Family Hustle," which shows their dynamic as a huge family along with their friends.
Although they recently celebrated Deyjah's 18th birthday, they have a whole lot more of that to go for their younger kids, and when that time comes, they'll definitely need to take a trip down memory lane.
Please fill in your e-mail so we can share with you our top stories!