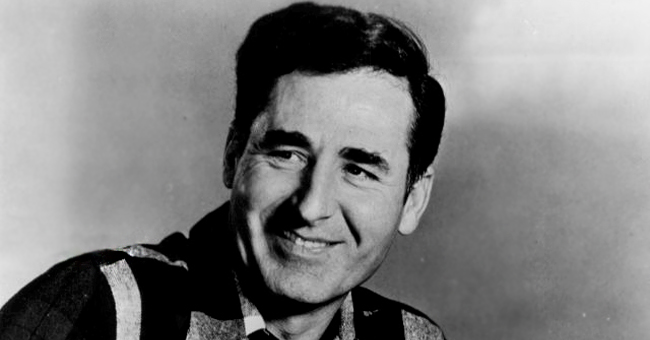 Source: Wikipedia.
Here's What Happened to 'Rawhide' Star Sheb Wooley after the Show Ended

Sheb Wooley's talent for showbiz gave him success before his days as Peter Nolan on "Rawhide," a skill that continued to shine and diversify after the show ended.
For six years, Sheb starred alongside the likes of Clint Eastwood and Eric Fleming as the trail scout on the popular western series, "Rawhide" until its end in 1965.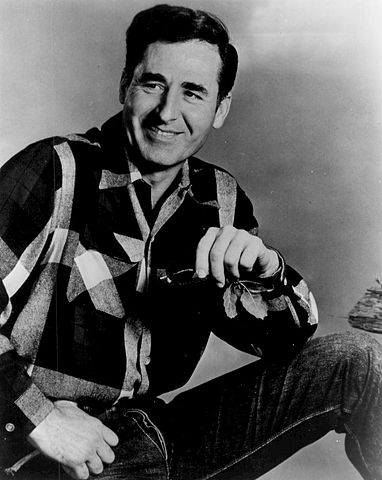 Sheb Wooley in 1971. Soure: Wikimedia Commons.
Although Sheb moved to Hollywood in 1950 to pursue a career in acting, he had already established himself as a recording artist.
His first recordings for the Bullet label, "Oklahoma Honky Tonk Girl" and "I Can't Live Without You" came out just before Christmas 1945, and toured with a western band from 1946 until he decided to go to Hollywood.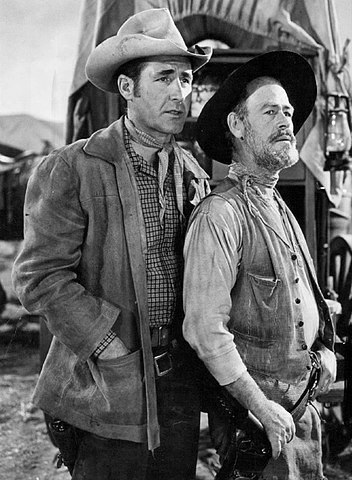 Sheb Wooley and Paul Brinegar on "Rawhide" in 1961. | Source: Wikimedia Commons.
When Sheb got cast in "Rawhide" in 1958, he also released a silly song he wrote named "The Purple People Eater" that went on to become a huge hit which sold 3 million copies the same year.
At first, MGM Records didn't want Sheb to record the song he once recalled writing in mere minutes and said, "When a songwriter friend of mine told me his son had come home from school with a joke about a people eater from space. I wrote the song in a matter of minutes, just dashed it off as a sort of an afterthought."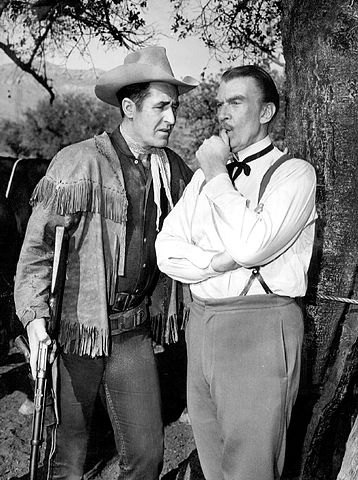 Sheb Wooley and guest star on "Rawhide" Walter Pidgeon in 1962. | Source: Wikimedia Commons.
A 1962 hit by Rex Allen, "Don't Go Near the Indians" inspired Sheb into recording a variety of favorite song parodies.
While Sheb originally got offered the song to record, he never did. But it gave rise to his first recorded parody, "Don't Go Near the Eskimos."
Several other humorous parodies, recorded as his drunken alter ego, Ben Colder followed including, "Sunday Morning Fallin' Down," "Talk Back Blubbering Lips," "Harper Valley PTA," "The Happiest Squirrel in the Whole USA" and "Fifteen Beers Ago."
By 1968 Sheb's comedic performances had done so well that he got awarded the Comedian of the Year Award. The following year his acting talents came more to the forefront again when he became an original cast member of "Hee Haw," for which he also wrote the theme song.
A small role in the 1976 film, "The Outlaw Josey Wales" had Sheb co-star with Clint Eastwood again, while his casting in "Starman" in 1984 had him star alongside Jeff Bridges.
The following year Sheb starred with Kevin Kline and John Cleese in "Silverado" followed by his role in "Hoosiers" in 1987, wherein he co-starred with Dennis Hopper and Gene Hackman.
Although Sheb got diagnosed with leukemia in 1996, he continued to perform as a singer until 1999 when deteriorating health forced him to stop.
He enjoyed staying in touch with fans via the internet and owned properties in California and Tennessee, while he also co-owned a farm in New Mexico with a brother. On September 16, 2003, Sheb passed away in Nashville, Tennessee aged 82.
During his time on "Rawhide," Sheb appeared in 110 episodes of the famous western that centered around a crew of cowhands as they drove a herd of cattle from San Antonio, Texas to Sedalia, Missouri.
Similar to Sheb, his co-star on "Rawhide," Paul Brinegar also had talents in other areas of showbiz.
While fans of the show may remember Paul as the character Wishbone, he went on to have a successful career that spanned almost five decades.
Please fill in your e-mail so we can share with you our top stories!