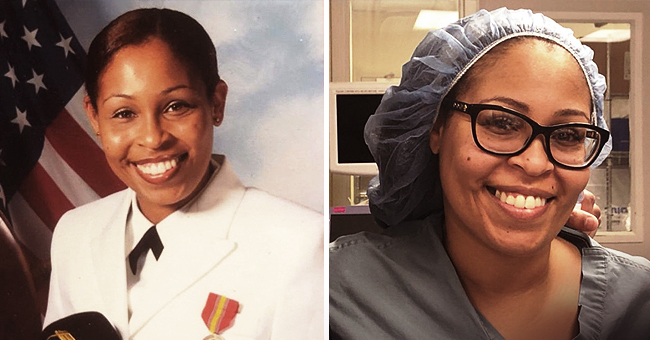 Twitter/Becauseofthem
Navy Lieutenant Becomes 1st Black Woman to Finish Neurosurgery Residency at Her College

A woman recently finished residency at The Neurosurgery residency at Baylor College of Medicine and she, since the program began in 1956, is the first black woman to hit this milestone.
Dr.Venita Simpson recently became the first Black woman to complete the Neurosurgery residency at Baylor College of Medicine since the program began 63 years ago.
Although the modest Simpson had not been looking to make history, she did admit to having always pictured herself as a doctor since she was little.
"I was inspired to go into medicine since I was seven-years-old after I had surgery. I was just amazed at all the gadgets in the hospital," Simpson began.
She then went on to explain to Because of Them We Can what drew her to Neurosurgery:
"I fell in love with Neurosurgery after witnessing Deep Brain Stimulation for Parkinson's Disease and movement disorders and how life-changing a seamless placement of electrodes in the brain could alter and enhance someone's life."
According to a report from Because of Them We Can, between now and 1981, Black women now constitute less than 1% of the population of neurosurgeons in the country.
That, coupled with the fact that the Baylor neurosurgery department is among Baylor's highest-ranked departments in overall scores and the nation, makes Simpson's achievement very notable.
Simpson credits her success at staying committed to medicine to doctors as well as several organizations:
"I met Dr. Ben Carson several times while I was a medical student at Georgetown, and he was still staff at John Hopkins. He gave me a great deal of inspiration," Simpson stated.
However, she added that she "resonated" more with Dr. Alexa Canady due to the fact that she was a black woman who excelled in a field influenced by white men.
"I definitely have pulled strength from her," she said.
Though Simpson makes it look smooth and effortless, she admitted to facing significant obstacles during her journey. She told Because of Them We Can talk about one such obstacle she faced when she decided she wanted to pursue a career in Medicine.
She had reportedly expressed her desire to go to medical school to her high school guidance counselor but was told to be "realistic."
"Even though I had a 4.0 GPA, she recommended another student of privilege for the scholarship I was applying. When I originally applied to Neurosurgery I did not match, but I dug my heels in, got back on the grind, and matched the second time around," Simpson stated.
Earlier in 2018, Simpson was featured in a Washington Post article where she joked that she "left a patient open on the table" while attempting to vote for the first time in Texas when she had been a resident at the Houston-based Baylor College of Medicine.
Upon the completion of her seven-year residency at Baylor, Simpson has decided to go east to Portsmouth, Virginia, and remain in the Navy to practice neurosurgery.
She has my best wishes!
Please fill in your e-mail so we can share with you our top stories!