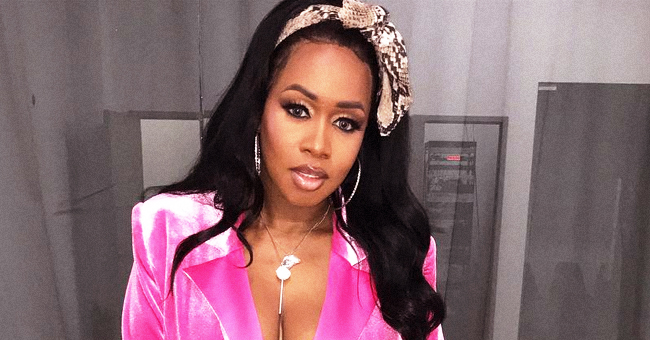 Instagram/remyma
Rema Ma Thinks 'Life Isn't That Bad after All' as She Dotes on Daughter in Cute Pics
Remy Ma might be facing some troubles with the law, but as long as she has her daughter by her side, everything seems better, as she revealed in a recent Instagram post.
Remy Ma and her 6-month-old daughter, Reminisce MacKenzie Mackie, were caught on camera creating memories by the ocean.
The rapper shared pics and a video that shows her sitting on a pier donning a pink t-shirt, jean shorts, and pink sneakers while holding her "golden child" and smothering her with kisses. Little Reminisce looked adorable wearing a white t-shirt, blue skirt, and a white bandana on her curly hair.
"Remy & Reminisce. When I feel like 'it's just too much'...I look at @ReminisceMackenzieMackie little face and realize life isn't that bad after all, and there IS some beauty left in this world #BlackLove #MeetTheMackies #RemyMa," the "All The Way Up" rapper captioned her post.
FANS' REACTIONS
Fans were quick to fill the comment section gushing about the mommy-daughter duo and their beautiful bond.
"Remy your little Mini Me is so precious. I just love her lil personality," wrote one user.
Another agreed with Remy's sentiment, writing, "That's what I do look at my kids when I'm stressed out I remember they apart of me so I gotta stay strong like ain't bad at all."
And a third one pointed out:
"Since you had her ... you've been a happier you... you are beautiful, but she has bought out a side of you the world hasn't saw....!! You look soooo happy!!! Best wishes to you and your family and me and my love yall!!"
CHECKING SOME FACTS
However, there was one comment that got Remy's attention, as one follower asked, "Why she only post about her daughter what about her other child? Just saying."
"My other biological "child" is about to be 19 years old, and my bonus "child"ren [sic] are 18, 19 and 22 about to be 23, NOT ACTUALLY what I'd call a child especially compared to a 6-month old, FURTHERMORE, what I post DOES NOT reflect my entire life."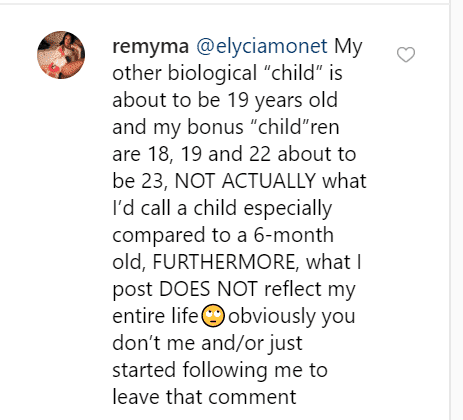 Remy Ma replies to a fan on Instagram. | Source: Instagram/remyma
Reminisce is Remy's first child with husband Papoose, and they nicknamed the girl "the golden child" because she was a miracle for the couple, who struggled with fertility issues before conceiving her.
Remy is also the proud mom of 19-year-old Jayson, from a previous relationship, and stepmother to Papoose's three children.
WAITING TO BE FREE
Remy Ma has been flaunting an ankle bracelet for months now after she was arrested and charged with third-degree assault for allegedly attacking reality star Brittney Taylor during a concert in April.
Remy, who served six years in jail and was released in 2014, has only a month left on parole before she can walk free again.
She recently shared a pic on Instagram with the caption: "The wait is almost over #RemyMa #OffParole."
However, her case against Taylor is still in process, and she denied all the accusations made against her.
Please fill in your e-mail so we can share with you our top stories!