Matthew McConaughey Is a Doting Husband and Proud Dad of 3 Beautiful Kids
American producer, Matthew McConaughey, is a proud family man as he graces the Red carpet with his beautiful wife and lovely children.
Matthew is an American born actor and producer and though he first gained popularity for the supporting role he played in the comedy "Dazed and Confused," Matthew McConaughey's first paid acting job was in a commercial for beer.
New digs available for a great and worthy cause @jklivinFNDN Available for 2 weeks only at https://t.co/oWQQdIRHRI pic.twitter.com/kXxeRzPEda

— Matthew McConaughey (@McConaughey) August 1, 2017
His popularity grew as he participated in various romantic comedies. Since then he has gone on to receive numerous awards and nominations including, The Academy Award, Critics' Choice Movie Award, Golden Globe Award, and Screen Actors Guild Award, among other awards and nominations.
Aside from being a talented actor and producer, Matthew is also a father to 3 beautiful kids, and a doting husband.
Matthew met his wife, Camila Alves in 2006, preceding the relationship with his wife, he had several affairs with his co-workers, including popular actress, Sandra Bullocks.
He and Alves got engaged on December 25, 2011, and were married in a private Catholic ceremony on June 9, 2012, in Austin, Texas, where they also reside.
Between them, they have three children: Levi, his first son, born in July 2008, Vida, his daughter born in January 2010, and Livingston, his second son born in December 2012.
The talented actor was recently honored at the Texas Medal of Arts Awards in Austin, where he made an appearance with his family.
Matthew, alongside his wife, Camila Alves, mom Kay, his mother, and his three young children took to the red carpet at the event. This got the attention of the ever-watchful media because the 49-year-old father rarely shares the spotlight with his kids.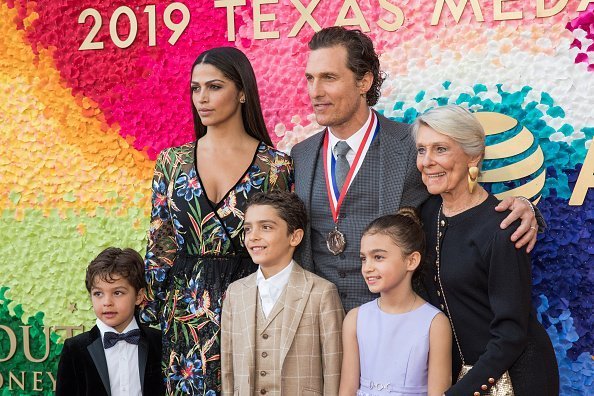 The kids seemed comfortable with the glare of the spotlight and were appropriately dressed for the occasion with Levi looking dashing in a beige plaid suit, while his sister, Vida had on a light-purple dress with strappy black shoes and Livingston, McConaughey's youngest, went with a three-piece black suit complete with a bow tie.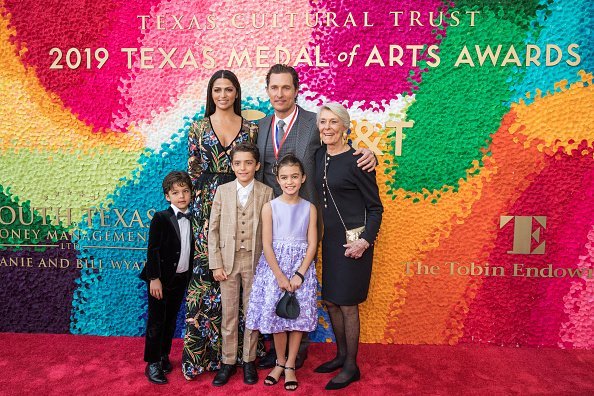 The award-winning actor's mother, Kay, who is aged 87, was present as well, joining her son and his family at the red carpet wearing a smile as chic as her blue dress.