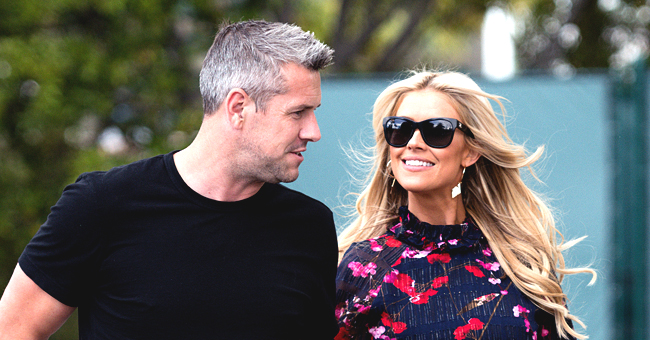 Getty Images
Christina Anstead's Husband Ant Jokes about Their Baby Shower
Ant shared in his Instagram account adorable photographs he took at the party accompanied by a small joke about the celebration.
"Walking into the lion's den" was the phrase that Christina's husband used to refer to the event held to celebrate the arrival of his first child with his wife. Then he commented on the desserts and how lucky he is to have so many loved ones.
One of the photographs shows family and friends eating around the table decorated with flowers and under a white umbrella, everyone talking and smiling.
Christina and her two children, from her previous marriage with Tarek El Moussa; Taylor and Brayden appear in a tender photograph and there is also a photo of the dessert table with blue glass decorated cookies and the phrase "Baby Anstead".
The star of 'Christina on the Coast' also shared some pictures of the celebration on her personal Instagram account after the event, one snap showed her carrying her younger son in front of a green vegetable wall where "Baby Anstead" was also read.
In the publication, she thanked everyone for attending, her friends for planning that beautiful celebration and the expectation of waiting for her baby in 10 weeks. She said it was a wonderful and very happy day with family and friends.
The couple confirmed that they had married and that they were waiting for their first child, a boy, after Christina's ex-husband, El Moussa, gave the scoop on a well-known television show.
In the interview, El Moussa explained that he was very happy because Christina had re-made her life, got married and is now waiting for another baby, a boy.
Christina talked about how she felt when she found out that her ex-husband had revealed all of this to the public before her. She said she was sure it had been a mistake and that everything was taken in a fun way.
After the celebration, Christina also shared a nice photo of her oldest daughter Tay, who had a lot of fun opening the gifts. She also published other beautiful photographs with friends and the food they enjoyed that day.
Of course, the surprise guest was the same husband, who was also photographed with Christina sharing a beautiful smile. Each of the photos that Christina shared had a phrase written by her and the @ant_anstead label along with a blue heart.
This celebration reminds us of the most famous baby shower of the year, the one held for Prince Harry and Meghan Markle's son.
Please fill in your e-mail so we can share with you our top stories!