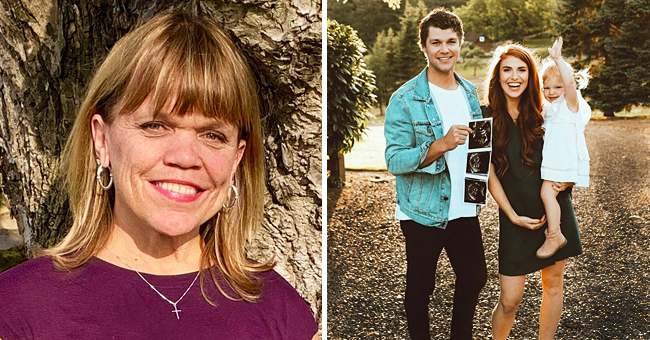 instagram.com/amyjroloff / instagram.com/jeremyroloff
Amy Roloff Reacts to Audrey & Jeremy's Pregnancy Announcement

Audrey and Jeremy Roloff were excited to announce that they'll be adding a new little one to their family. Family matriarch Amy Roloff was just as elated to hear the news.
The couple took to social media to share three family photos featuring little Ember Jean, one, as they shared the announcement with their fans. The post is found below.
The first shot showed Jeremy holding onto three scans that revealed his wife to be pregnant. Ember raised her hand up as she sat in her mother's arms.
A second shot saw Ember sitting on her father's shoulder and leaning down to give him a kiss. This time, Audrey held the scans in one hand while she rested the other on her tummy.
In the last photo, Ember held onto the scans and stood on the ground while her parents looked down at her. Jeremy wore a denim jacket over a white tee while Audrey sported a green dress. Ember was in a white dress.
In the caption was written:
"We've got some exciting news: Ember Jean is going to be a big sister! We're very excited to grow our family. Thanks for following our journey and for your continual support of our family."
Among the many congratulatory messages left under the post, Jeremy's mother Amy Roloff shared her own. "Woohoo! I'm so thrilled to be a grandma again," she wrote first.
In a second comment, she simply said "Congrats!" to the young couple. Amy is still part of the popular TLC show "Little People, Big World," which put the Roloff family on the small screen.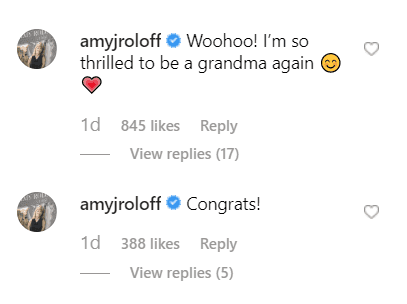 Photo: Getty Images/ Jeremy Roloff
Jeremy and Audrey decided to leave the show after being part of it for 14 years. In an Instagram post, Jeremy revealed that the decision was made a whole year prior.
He thanked the fans and assured them that he and Audrey would not be disappearing, but that they would continue events with their Beating 50percent ministries.
The couple has also been promoting their book, "A Love Letter Life," in which they opened up about their dating life and an eventual long-lasting romance. Ironically, the book tour threw the pair off their marital synchronicity.
Only days before the pregnancy announcement, Audrey gave fans a sneak peek into the struggles that she's faced within her marriage to Jeremy. "There has been a lot of "heated fellowship, morning hugs missed, and date nights postponed," she wrote in a lengthy post.
Audrey made sure that her fans understood that no relationship is perfect despite how it might be portrayed on Instagram and that she and Jeremy go through fights like anyone else.
When Jeremy apparently attempted to make a similar post about marital expectations and his recent troubles, he triggered one person to call him and other young couples out for overcomplicating their relationships.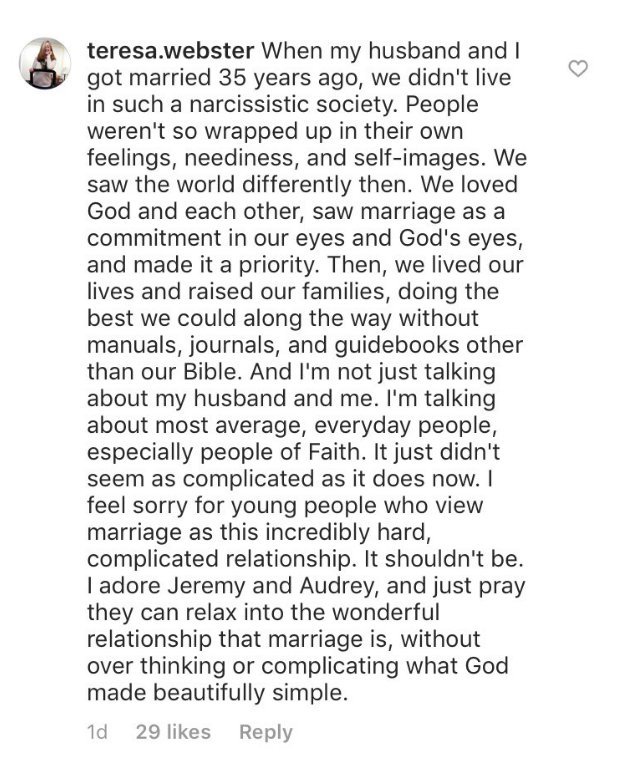 Photo: Instagram/ Jeremy Roloff
Teresa Webster said that this society is a "narcissistic" one, unlike that which that existed 35 years ago when she got married. Other people suggested that the post was ingenuine and just a way to further promote the couple's new book.
The news that the couple is expecting follows a May announcement from Zach and Tori Roloff that they anticipate a baby girl in November. Our congratulations go out to both couples.
Please fill in your e-mail so we can share with you our top stories!