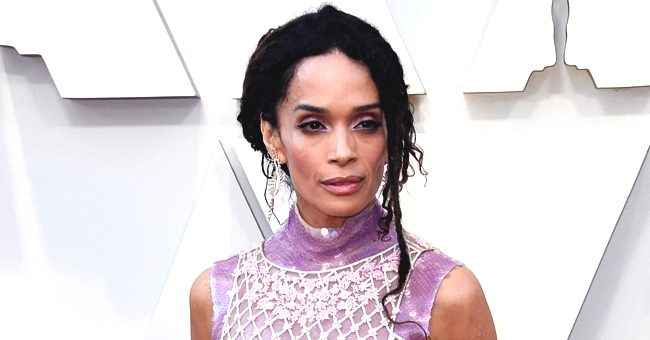 Getty images
Lisa Bonet Looks Effortlessly Chic While Vacationing in Italy with Husband Jason Momoa & Their Children
In the course of her trip to Italy with her husband and children, 51-year-old Lisa Bonet shows that age is nothing but a number as she flaunts her beauty, rocking a free monochrome long gown!
The TV star stops at nothing to display her sassy yet straightforward style. She stepped out looking all dapper in an entirely black long gown paired with a buckle-footwear.
That was not all; the "Life On Mars" star garnished her look by holding a leather handbag, while she had a hat and a dark colored glasses on.
The mother of three was not the only one bringing her A-game in a cooled down outfit. She had her actor husband, 39-year-old Jason Mamao and their two children, 10-year-old Nakoa-wolf, and 11-year-old Lola, and the pack reeked of calm finesse.
The walk in Venice featured the "Aquaman" star looking all relaxed as he walked smoothly by his wife in an outlined zebra colored pants, paired with a pink shirt, and a pink buckle-slider.
They all appeared to be enjoying the moment while taking a walk. The family outing premiered just two days after they attended Lisa's daughter's wedding.
Zoe Kravitz happens to be the daughter Lisa, had with her former husband, Lenny Kravitz. While Zoe recently exchanged vows with her 31-year-old beau, Karl Glusman in France, sources revealed the duo had tied their union quietly in the US, and they intended to have the grand ceremony in the city of love for their family's sake.
The ceremony held at her father's in Paris, and their love may seem all perfect now, but it didn't start like that.
The pair were linked by a friend at a bar hangout. Zoe explained to British Vogue how she hadn't expected the relationship to last. She had termed it a "fling."
The exquisite marriage ceremony featured a couple of celebrity guests from the movie industry. Exes even celebrated the couples bond. Zoe's former boyfriend, Chris Pine, attended with his lover.
The event reeked of love all the way! As Jason and Lenny shared a couple of drinks together. This doesn't come as a surprise to Zoe, who seems familiar with the cordiality between her dad and her mother's husband, as she explained her dad's fondness for her step-siblings and stepdad.
"Aquaman" has just enough love to go round, and he doesn't deprive his woman of it. This may be the reason why he always appears to be killing it anytime he steps out with her. The couple is great at complementing each other's fashion.
During a getaway in Italy, he was pictured shirtless during an outing with Lisa, and good lord! The actor looked all crunchy even though he had most of his beard off. His Beau rocked a more toned-cover up look.
Lisa is having the time of her life with her excellent family, and it seems that life for her begins at fifty, not at forty!
Please fill in your e-mail so we can share with you our top stories!