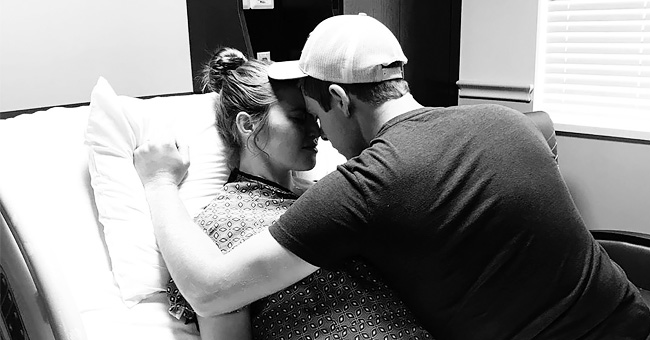 instagram.com/austinandjoyforsyth
Joy-Anna Duggar Reveals She Miscarried at 5 Months

Joy-Anna Duggar suffered a significant loss a week ago, and she took to her and husband, Austin Forsyth's joint Instagram account to share a heartfelt message recapping what they'd been through in the past week.
Suffering a loss of some sort is inevitable, but that doesn't make it ok or less hurtful still. In an Instagram post, Duggar told her followers that she lost her five months old pregnancy.
The reality star shared a black and white image of her on a hospital bed. Her husband was also on the couch with her, and the duo seemed to have their eyes closed like they were deeply in a mourning mood.
The picture was accompanied with the emotional words,
"Today marks one week since we heard these words… "So this is your baby's heart (pointing to the ultrasound screen). I don't hear a heartbeat or see any movement." We had gone in for our 20-week ultrasound and gender reveal. It was a baby girl."
Duggar further went on to say that although it's been tough, they were bestowed divine peace and comfort during their trying time.
"Although we don't understand why God has given us unexplainable peace and comfort during this challenging time. Yes, it still hurts, and we have cried countless tears, but we know that we can trust the Lord."
She went on to post some scriptural words from the bible before revealing that they had picked out a name for their baby girl.
"We named her Annabell Elise. Annabell means "God has favored me," and Elise means "God satisfies." What a precious thing to know that when our daughter opened her eyes, the first thing she saw was the face of Jesus."
Duggar then implored her fans to keep her and her family in their prayers.
As expected, her followers and well-wishers were quick to send out words of support and prayers to the couple. Some also commended her for being so open and wished her and her husband the best.
Joy-Anna and her husband are parents to a little boy, and they were both expecting their second child before losing the pregnancy. Hopefully, the couple will heal from their loss and maybe even decide on having more children sometime in the future.
Please fill in your e-mail so we can share with you our top stories!