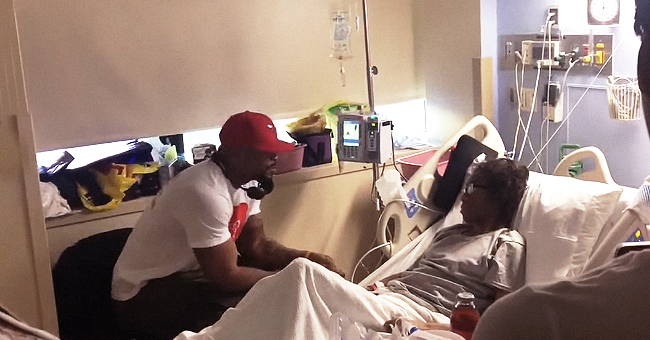 Youtube/Staten Island Advance
Method Man Visits Fan with Life-Threatening Condition at Staten Island University Hospital

Staten Island University Hospital got a huge shock when Wu Tang's very own Method Man dropped by to visit a patient suffering from a chronic health condition.
Twenty-six-year-old Bryson has been hospitalized at Staten Island University Hospital, Ocean Breeze for about three months. He suffers from a life-threatening condition which the doctors have failed to reveal due to patient's privacy protection policies.
The 26-year-old who has been struggling to stay alive since his hospitalization got a ray of hope when his favorite rap artist paid him an unexpected visit.
His surprise was shared by the staff and visitors present in the hospital at the time of the superstar's visit as they trooped-in in large numbers to witness the emotional encounter.
A MOMENT TO REMEMBER
A YouTube video of the emotional union showed the moment when the Wu-Tang Clan member walked into Bryson's hospital ward. The diehard hip hop fan was overwhelmed on sighting the artist and immediately tried to sit up as he reached out for a handshake.
The African-American pair shared a handshake before the superstar gave his fan a heartfelt embrace that could set him on the path to recovery as visible from the smile on the patient's face soon after.
SIUH TO THE RESCUE
It was gathered that the rap star's visit was facilitated by a non-profit organization, "Have a Heart," as part of a program organized by the hospital. The hospital included the visit in their "week of surprises" agenda after discovering that the patient was a huge fan of Method Man.
FANS ARE IMPRESSED
Fans have commended the superstar for his gesture of kindness and humility, concluding that he was indeed an epitome of love. A fan who commented on the YouTube channel explained how he once witnessed the rapper leave the stage during a performance to check on a sick person among the audience.
The Wu-Tang Clan rapper jostled his fans when he ventured into acting about 17 years ago and decided to maintain the name, Cliff Smith. He has somehow managed to keep a balance between being Cliff the actor and Method Man the rapper, although he admittedly prefers the former.
This, however, has not made him lose any of his rap vibes. Earlier in June, the star thrilled his audience when he performed a duet with Mary Blige at the 19th Bet Award Night.
The duo sang excerpts from their 1994 collaboration, "I'll be there for you." The star who recently revealed that he was working on his cannabis brand along with Redman undoubtedly has a heart of gold.
Please fill in your e-mail so we can share with you our top stories!