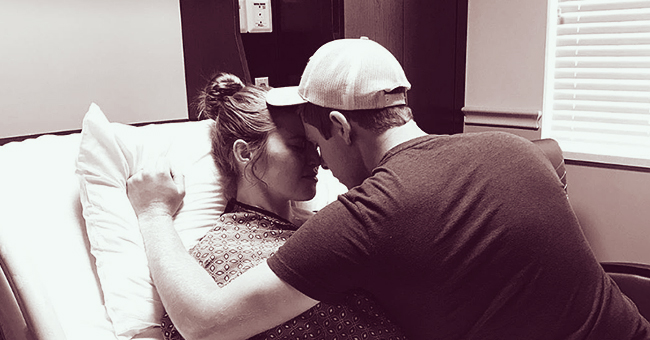 instagram.com/austinandjoyforsyth
Jessa Duggar Mourns the Loss of Sister Joy-Anna's Unborn Child

Jessa Duggar expressed grief over the loss of what would have been her niece after her sister revealed that she suffered a miscarriage.
Joy-Anna Duggar sorrowfully announced that she and her husband Austin Forsyth lost their unborn child five months into the pregnancy and shared the news on Wednesday.
"Today marks one week since we heard these words… 'So this is your baby's heart (pointing to the ultrasound screen). I don't hear a heartbeat or see any movement," Joy-Anna wrote.
The post was accompanied by a black-and-white photo of Joy-Anna laying in bed while her husband sat near her and rested his forehead to hers. Joy-Anna explained that their visit was to learn of the baby's gender.
She revealed that they would have had a girl, and their name for her was going to be Annabell Elise. She went on to take comfort through her faith and ended with a prayer from poet Fanny Crosby.
Hours later, sister Jessa reposted the same heart-wrenching picture as she showed support for Joy-Anna and Austin. "Our hearts are breaking over your loss," she began.
She continued:
"Such beautiful words you've written in your post. Annabell will forever be in our hearts. We love you all and are praying for God's peace and comfort during this time."
Additionally, family members Michelle and Jim Bob Duggar also reposted and reacted to the horrible news. "We were so sad to hear that Joy and Austin's baby girl passed away mid-way through their pregnancy. The pain of losing a child is unimaginable," they wrote.
Jessa, who just welcomed her third child and her own baby girl last month, has had to mourn a miscarriage before. In January, she shared condolences to sister-in-law Lauren Duggar.
Then pregnant, she revealed that she and Lauren had the same due date and that she was there for Lauren during her grief. She ended by sympathizing with others who had gone through a similar experience.
The news follows the recent loss of family matriarch, Grandma Mary Duggar. She passed away on June 13 at age 78 from accidentally drowning in a pool. Joseph and Kendra Duggar later paid tribute to her in a series of throwback photos.
The two recalled the times that Mary was there for them for birthdays and other events. They also touched on how she was a "dedicated soul winner" before ending with, "We love you Grandma."
Please fill in your e-mail so we can share with you our top stories!