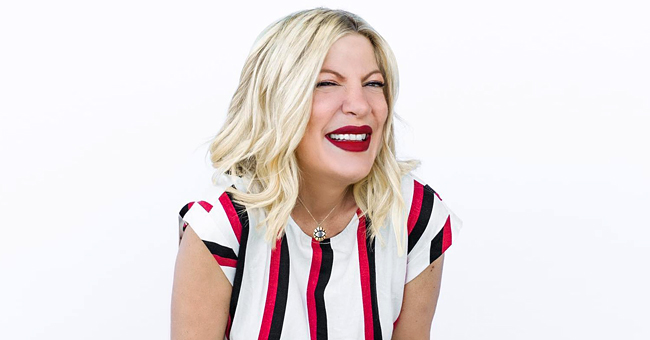 instagram.com/torispelling
Tori Spelling Has Intimate Tea Date with Her 'Little Lady'

Tori Spelling enjoyed Canada Day by enjoying "High Tea" with her daughter at the Fairmont Empress Hotel in Victoria. The actress shared images of the intimate tea date on her Instagram page.
Tori Spelling relived an old memory when she took her daughter out on a Tea date to celebrate Canada day. The duo had some special tea for which Fairmont Empress is renowned for.
The star couldn't help but post images of the outing, and also recommended some flavors for her followers to try. Her followers were also intrigued by the cute pictures.
Tori is famous for her role in "Beverly Hills 90210," which was directed by her father. However, in taking her oldest daughter, Stella Doreen, McDermot out on Canada day, she was reliving an experience she had with her mother twenty years ago.
In her post, she explained that her mother had brought her to Fairmont Empress to have high tea twenty years ago. Tori's post had images of the two enjoying the tea and some sandwiches. They also rose their teacups to the camera and wore beautiful smiles.
Tori also urged her followers to try the blue suede shoe tea, beautiful hue and flavor blend, as well as the hand, baked clotted cream in ramekins. She also urged them to come and have a feel of the hotel experience. She ended her post by thanking the hotel.
Tori Spelling didn't come to Vancouver Island only for the tea. She is also filming for the reboot of 90210. The highly anticipated return of the series has got her fans overly excited. She had earlier posted a picture taken during filming in which she posed in an inflatable duck, alongside co-stars, Jennie Garth, and Jason Priestley.
Tori does have a good way of combining her wife and mother duties with her career. The proud mother recently celebrated her oldest child and son, Liam's graduation from sixth grade.
The 12-year-old graduated excellently, and his proud mom shared her delight with her followers on Instagram. She posted snapshots of the graduation and also stated how happy she was.
Tori married Dean McDermott in 2006, and together they have five children, Liam, Stella, Hattie, Finn, and Beau. Dean also has a son, Jack from his first marriage. The couple began having kids while they filmed their reality show, "Tori & Dean: Inn Love," which stopped airing in 2012.
Please fill in your e-mail so we can share with you our top stories!